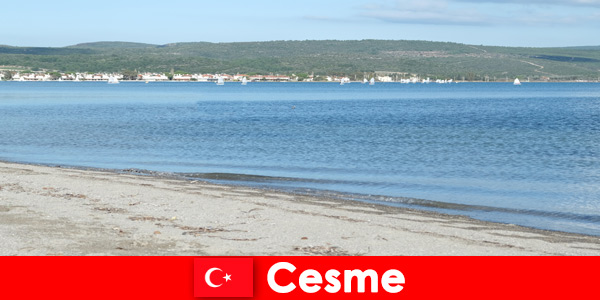 Cesme or Çesme is located in the extreme west of Turkey at the end of an elongated peninsula. It is now a very popular seaside resort with locals, expatriate Turks and expatriates, although it is not yet overly crowded. The city name is derived from the Turkish word for fountain. In ancient times, the place was considered a bridgehead between Asia and Europe.
Sights and Attractions
There are many fountains to see in the old town of Cesme. As a landmark, the castle towers over the city with its six fortress towers. If you want to enjoy fairytale accommodation, book one or more nights in the old caravanserai, which now functions as a hotel. The main attraction, however, is the fine beach and the sea. Here are ideal conditions for sailing and kite surfing. You can swim and relax to your heart's content or try one of the many water sports activities on offer. There are also several thermal springs in the vicinity. Wellness is also on the holiday agenda for many guests and emigrants. Concerts, theater performances, sports competitions and other cultural events take place regularly on the open-air stages in summer and ensure a varied entertainment program. Last but not least, Turkey is known for its culinary delights, which are served in family restaurants, bars and cafés.