The motivation why tourists make a trip to the Turkish Republic is very different. It is usually the search or the addiction for experiences, including those of a culinary nature, that motivates people to travel to certain regions of a country. It is no different on a trip to Gaziantep in Turkey. The city is located in Southeastern Anatolia and is the capital of the province of the same name, is the sixth largest city in Turkey and has around 2.1 million inhabitants. In addition to Turks, Kurds and Arabs also populate the city. It's no wonder that this region is an Eldorado for holidaymakers who enjoy themselves. Because culinary delicacies from many cultures can be enjoyed here on site.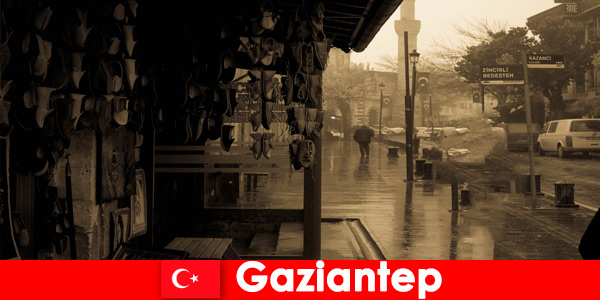 Not an entertaining story
Unlike other places in the world, this city does not have a short history behind it. The city is believed to be identical to the ancient Seleucid city of Antioch ad Taurum. Corresponding archaeological finds were made. Even its location suggests that this city is more Arabic than Turkish. Because far to the east and directly to the north on the border, the assumption is that the city was not influenced by Byzantine for long – or if at all. In 1514 the Ottomans conquered the southern Anatolia region and from then on the city belonged to the Ottoman Empire. The city has been part of the Turkish Republic since 1921. The city has been a metropolis since the 1990s. The Ottomans, but of course also the Arabs, had an influence on the regional cuisine, which is now offered in many places in the city. Since food and drink play a very important role for pleasure vacationers, a look at the local delicacies that Gaziantep has to offer is also taken. It is worth mentioning that – which is also mentioned again and again in the local restaurants – UNESCO has awarded the city's cuisine.
Kebab and pistachios and other goodies
The cuisine of Gaziantep is, if you like, a real place of pleasure for holidaymakers in Turkey, especially for those for whom eating and drinking on site and, above all, the local delicacies play an important role. This includes various kebab and kofte variations on site. Worth mentioning are Içli Kofte, but also Patlican Kebabi, Sogan Kebabi and Lahmacun. Even when it comes to desserts, the city can score with its delicacies and come up with special features. An important part of the many local sweets is the pistachio. The reason for this is that the best pistachios from Turkey come from this region of southern Anatolia. Pistachios are used to prepare hearty dishes such as fistikli kebap, but also desserts such as baklava. Pleasure vacationers also take home some pistachios as a souvenir of a wonderful vacation where food and drink played a special role.