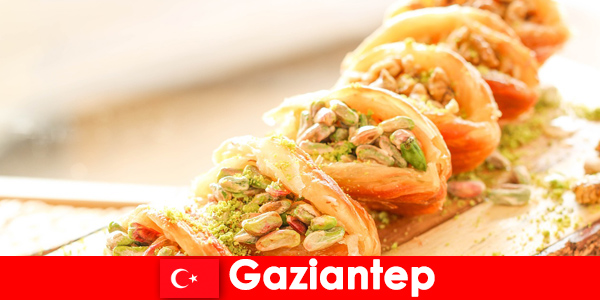 Gaziantep is a city in southeastern Turkey known for its delicious food and traditional handicrafts. Gaziantep's cuisine is one of the richest and most delicious cuisines of Turkish cuisine and is well known all over the world. The delicious dishes prepared with various spices, vegetables, meat and pasta offer visitors an unforgettable holiday experience. Here are some of Gaziantep's delicious dishes:
A small selection of sweets and hearties
Baklava is one of Gaziantep's most famous dishes. It consists of thin dough, butter, antep pistachios and syrup. Kebab is one of the essential dishes in Gaziantep cuisine. The meat is cooked on glowing coals and refined with pomegranate syrup and spices. Katmer is a type of pasta made from thin dough that is brushed with butter and sprinkled with antep pistachios. The Antep pistachios are one of the most important agricultural products of Gaziantep and are known all over the world. Their taste and scent attract the attention of visitors.
Beautiful handicrafts, culture and oriental markets to browse
Gaziantep is also known and very popular for its traditional handicrafts. Here you will find many workshops and shops for copper work, carpet weaving, carpet manufacture and felt manufacture. Visitors can learn about craftsmanship in these workshops and even buy handmade products. Gaziantep is also a tourist attraction with its historical sites and museums. Historical sites in the city include buildings such as Gaziantep Castle, Chain Bazaar and Medusa Mosque. Gaziantep Archeology Museum offers visitors a historical journey.
Recommendation and very worth seeing for all travelers
Overall, Gaziantep in Türkiye attracts tourists for its delicious dishes and traditional crafts. Gaziantep's cuisine is well-known worldwide and visitors can enjoy many delicious dishes such as baklava, lahmacun, kebap, pistachio donuts and more. Gaziantep is also known for its traditional handicrafts such as copperwork, carpet weaving, woodwork and many other handcrafted products. Visitors can visit the craft workshops, see the masters' work up close, and learn for themselves.