Turkey is not just a popular vacation destination. It also offers a lot for emigrants. Antalya in particular is very popular with emigrants and we would like to name a few good reasons why it is worthwhile to emigrate to Turkey. It's not just about the country or the people. No, most people focus on the climate. It is always warm in Antalya and every year this draws a lot of people under the spell of this wonderful holiday country. It is also possible to open your own business here or to set up a hotel chain. But this city also has a lot to offer for people who want to pursue a normal job in Antalya. Emigrating therefore no longer has to be a dream you can never fulfill. We would now like to give you a few more good reasons that make it easier to emigrate to this beautiful country. Because maybe you are just thinking about turning your back on your own country and starting over in a beautiful and warm country.
Why is it worth emigrating?
In this country you live much cheaper than in Ger-many. Here the costs of daily needs are much lower and you can even feed a larger family with ease. There are more emigrants in the city and this has the advantage that you can also find ni-ce people with whom you can make friends. Furthermore, it is easy to take care of yourself in this city. There are also various shops where you can buy your groceries. Even when it comes to the exchange rate, it is worth thinking about emigration. Immigrants can get off to a flying start in Turkey on a small budget and never have to worry about their existence if they bring enough equity to the country.
Health gets better
The climate in this country makes you feel healthy. You can even get rid of diseases like arthritis if you choose to emigrate to this country. Furthermore, the country has beautiful weather for about 9 months. In the three months of the rainy season, one does not have to expect major climate changes. It remains mild even during this time.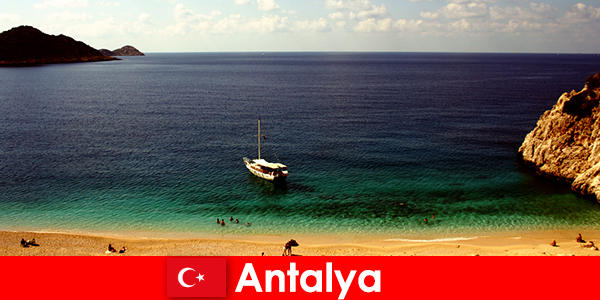 Beautiful sunsets
Are you a romantic and love this country because there are supposed to be such beautiful sunsets here? That is indeed the case. You can enjoy your meal at any time from a balcony in your apartment. The city also offers itself to be active. Here you simply cannot sit in your chair and let the day pass. It is important that you do something to get to know the country and its people better, and this is best done with a ni-ce walk through Antalya.
Get healthy in Antalya
You will get well in this country. You can plan diets or just go hiking. The area around the city is inviting and there is always something to see. You are guaranteed not to be bored if you move to Turkey as an emigrant. You don't even have to leave the country for your trips, because there are many travel destinations in Turkey. Maybe you love small coastal towns or you always wanted to go to the port? This is very possible in Turkey. Of course there are also fantastic beaches where you can linger with your family.
Just try it!
Don't you dare to go to a foreign country as an emigrant? It is important that you prepare and schedule everything well in advance. otherwise you are guaranteed not to go wrong. You will love this country and enjoy living here. When you come to Antalya, you are guaranteed to find a good foothold. Here you can work and live well and this is an important reason to inform yourself about emigration. As an emigrant, you can just benefit. You can look for an apartment in advance, because the real estate market in this country allows all of this. You are guaranteed to find a ni-ce apartment for yourself and your family!