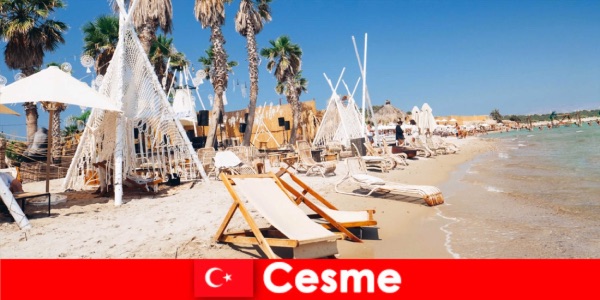 Çeşme, is a place that both local and foreign tourists like to choose for their vacation. This beautiful holiday region is known for its warm climate, tourist attractions and especially for its beautiful beaches. Here are some of the most beautiful beaches in Çeşme.
Summer, sun, beach and swimming
Ilıca Beach is one of the most popular beaches in Çeşme. This Blue Flag beach is known for its clear water, fine sandy beach and ideal conditions for windsurfing. At Ilıca Beach one can enjoy the sea, sunbathe and engage in many water sports activities. Altınkum Beach in Cesme is another popular beach that impresses visitors with its stunning views and sandy beach. While enjoying the sea, one can relax and contemplate the turquoise waters at the same time. Also, there are many cafes and restaurants in the area that cater to the needs of the vacationers.
Activities, celebrations and also relaxation for families and friends
Pırlanta Beach is one of the most desirable beaches in Çeşme. Its crystal clear water, fine sandy beach and impressive view make it particularly popular with water sports enthusiasts. You can also enjoy local specialties in the restaurants and cafes located on the beach. Boyalık Beach in Çeşme is another beach that attracts tourists due to its calm atmosphere, beautiful views and unique natural beauties. Here you can go into the sea, sunbathe and taste delicious dishes in the restaurants on the beach. Ayayorgi Bay in Çeşme is an ideal option for a quiet and peaceful vacation. This small bay is one of the favorites of visitors due to its sandy beach, crystal clear water and beautiful views. In addition, one can taste local delicacies in the restaurants and bars in the bay.
A unique experience and recommendation for all travellers
The beaches of Çeşme are not only suitable for sunbathing and swimming, but also ideal for diving, surfing and other water sports. In addition, the surrounding restaurants and cafes offer visitors delicious food and drinks. In particular, the restaurants in Alaçatı offer culinary specialties from all over the world to attract holidaymakers. Those who visit the beaches of Çeşme. You can also discover the surrounding historical and natural attractions. For example, the Çeşme Castle, a historical building from the Ottoman era, is an eye-catcher and offers a beautiful view of the Aegean Sea. Enjoy your vacation in Turkiye.