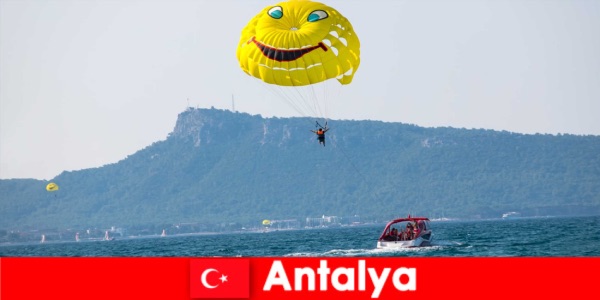 Antalya is one of the most beautiful cities in Turkey and is visited by millions of tourists every year. The city's unique beauty, rich history and variety of activity options offer a fun, exciting and adventurous vacation experience for all family and friends.
Boat tours on the crystal clear sea – rafting and canoeing in Canyon National Park provides relaxation and fun
Antalya is famous for its stunning beaches and boat tours are one of the best ways to experience the beauty of the crystal clear sea. A boat tour in Antalya offers a combination of relaxation and adventure for the whole family. Köprülü Canyon National Park offers some of the most exciting rafting and canoeing experiences in Turkey. A river trip with breathtaking scenery and challenging gradients will be an unforgettable adventure for nature lovers.
Paragliding, skydiving and extreme sports – adrenaline for the adventurous or golfing for pure relaxation
Antalya also offers some of the best extreme sports in the world including paragliding and skydiving. These activities are suitable for the adventurous looking for an adrenaline rush. You will enjoy a magnificent bird's-eye view of Antalya and take home an unforgettable experience. Furthermore, Antalya is a paradise for golf lovers and offers some of the best and most exclusive golf courses and golf clubs in Turkey. With different landscapes and layouts, Antalya offers a unique golfing experience. It's a great way to spend the day relaxing while enjoying the game of golf.
A recommendation for all travelers in Türkiye
Overall, there are many fun activities in Antalya suitable for all tastes and ages. If you are planning an adventurous and fun vacation, you should definitely consider Antalya and take advantage of the best season. Whether you are looking for relaxation or adrenaline, Antalya has something for everyone.