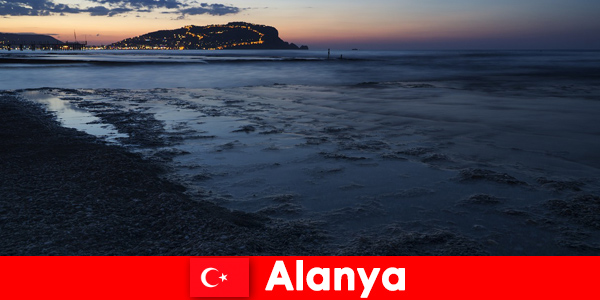 Alanya is a tourist district on the south coast of Türkiye. With its natural beauties, historical structure, tourist attractions and most importantly its beaches, Alanya is the most popular destination for tourists who want to spend an unforgettable family or friends holiday. This article provides detailed information about Alanya's most popular beaches and natural beauties.
Best climate, beach experience and lots of activities
Cleopatra Beach, the most famous beach in Alanya, takes its name from the legendary Egyptian Queen Cleopatra. With its fine sand, turquoise sea and beautiful views, it is a popular tourist destination. Kleopatra Beach also received the Clean Beach award from the International Environmental Education Foundation in 2001. Another popular beach in Alanya is Damlataş Beach. Although the beach is smaller than Cleopatra Beach, it attracts tourists with its beautiful view, clean sea and calm atmosphere. There are also children's playgrounds and beach activities.
Great excursion and the best recommendation for partying and having fun
Sapadere Canyon, which is one of the natural beauties of Alanya, is one of the places that attract vacationers. The canyon offers an interesting experience with its hiking trails, waterfalls and natural pools. There are also picnic areas and restaurants near the canyon. Damlataş Cave is one of the places that reflects the historical structure of Alanya. The cave, which has 15,000 years of history, attracts thousands of tourists. Stalactites, stalagmites and rock formations inside the cave amaze visitors. Alanya also offers an unforgettable holiday opportunity for families. There are many family-friendly holiday villages, aparthotels and beach clubs in the district. Lifeguards are on duty in the sea for the safety of holidaymakers, and there are children's playgrounds and activities on the beaches.
Oriental nights and entertainment with a fun factor
To sum up, Alanya's beaches and natural beauties are one of the most exceptional holiday destinations in beautiful Türkiye. Vacationers and pensioners alike will find peace and quiet here with unique views. Besides sea, sand and sun, Alanya also attracts tourists with its rich historical structure, tourist attractions and delicious food. Additionally, it's a destination that appeals to all ages and segments with family-friendly vacation options. Visitors to Alanya can enjoy Cleopatra Beach, Damlataş Beach and other beaches, explore historical sites and tourist attractions, and discover natural beauties. Places like Alanya Castle, Kızılkule, Damlataş Cave, Alanya Archaeological Museum and Alanya Aquarium are must-visit places for vacationers. In addition, Alanya's cuisine is also very rich. Seafood, mezzes and local scents appeal to holidaymakers' taste buds. In addition, Alanya's nightlife is quite lively. Bars, nightclubs, restaurants and cafes offer tourists a fun nightlife.