Experience a dream vacation with your friends on a club trip to the Bodrum peninsula in Turkey. Fantastically beautiful houses with white limestone facades, ancient sights, dream beaches and an azure blue sea await you. One of the most popular Turkish holiday resorts is characterized by its very special ambience. You will experience a wonderful vacation on the Turkish Aegean coast. A vacation paradise for everyone. Here you will find first-class hotels, great boutiques and luxurious yachts and ships anchored on the banks.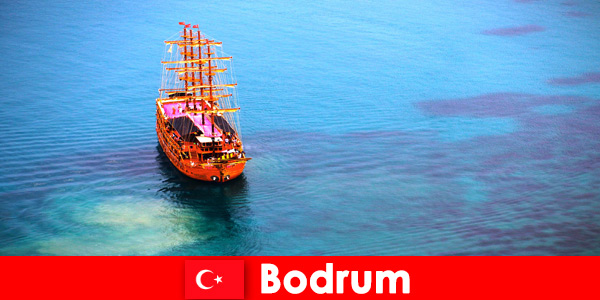 The white city on the Aegean Sea
Because almost all of the town's houses are made of white limestone, the town is also known as the "white town". You experience the Mediterranean ambience with all your senses. For example, when you are strolling through the narrow, cobblestone streets and smell an exciting mixture of flowers, the sea, coffee and spices. The old town is particularly beautiful with its typical Turkish cafés and many souvenir shops. There are many exciting things to discover in the numerous bazaars and weekly markets.
150 kilometers of sandy beaches on the peninsula
For members, special areas are separated on the beaches, where undisturbed relaxation by the sea is possible. The sun shines here almost every day, and if you are one of the sun worshipers, you can look forward to many hours of sunshine that you spend on the clean and well-tended sandy beaches of the island. The underwater world is spectacular and sensational and delights snorkelers and divers from all over the world. In addition, you and your friends can party until the morning with the party ships.
Experience the glamorous life in the Bodrum marina
On a club trip, the members were always enthusiastic about the fact that glamorous life in the city only wakes up in the evening. You can have a wonderful meal here and enjoy both local and international specialties. The beautiful city invites you to stroll and a special highlight is to watch the sunset.
Marvel at the sights in the city and region
In the vicinity you can admire numerous sights and if you travel to Turkey with your friends to get to know its "ancient side", you will find it in the city as well as in the surrounding area. For example, you can marvel at the mausoleum of Halicarnassus, which is one of the seven wonders of the ancient world.