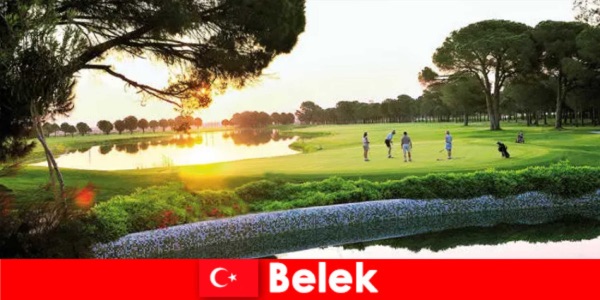 Belek, both one of the most beautiful municipalities and a paradise of tourism in Turkey, attracts the attention of tourists with its natural beauties, historical sites and beaches. There are many activity options for those who want to holiday in Belek. Here you will find detailed information about activities you can do in Belek.
Popular activities for friends and family
Belek is famous for its beaches. It attracts tourists with its great climate, clean sand and crystal clear sea. Vacationers can sunbathe on Belek beach, swim in the sea and engage in water sports. The beaches are suitable for all activities. Recommendation is sunbathing, swimming and jogging on the beautiful beaches. In addition, Belek has one of the best golf centers in the world. There are many golf courses in the region and it is one of the preferred places for tourists who want to play golf. The golf courses in the region are exclusively suitable for professional golfers as well as for amateurs. Belek also attracts attention with its rich underwater world. You can discover the unique beauty of the Mediterranean Sea through scuba diving. Diving centers in Belek make tourists' underwater experience unforgettable with trained staff and quality equipment.
Visit historical sites and enjoy nature for the curious
Belek also attracts the attention of tourists with its historical sites. A trip is definitely worth it. The ancient city of Side is one of the most important historical sites in the region. This ancient Roman city amazes tourists with its historical and cultural structure. The ancient theater, agora, hammam, monument and other buildings are places where history buffs will enjoy visiting and exploring. Furthermore, Belek attracts the attention of tourists with its natural beauty. The Koprulu Canyon National Park is one of the main natural attractions of the region. It is an ideal place for activities such as hiking, trekking and cycling. You can explore the unique panorama of nature by rafting in Köprülü Canyon.
Unforgettable moments await tourists from all over the world
In summary, Belek is one of the most beautiful holiday spots in Turkey and a perfect place for all kinds of holiday activities and pure relaxation. Belek attracts tourists with its world-class golf courses, beautiful beaches, natural parks, historical sites and marine life. In addition, Belek also has restaurants, shopping malls, oriental markets, nightclubs and other entertainment venues. For this reason, Belek is an ideal vacation spot for families with children, sea and nature enthusiasts, golf lovers, history buffs and entertainment seekers. It is recommended that everyone who wants to have an unforgettable vacation should definitely visit Belek in Türkiye.