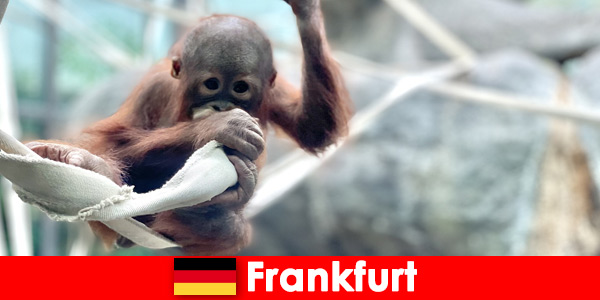 The Frankfurt Zoo is one of the oldest animal parks in Germany. It not only houses a variety of rare animals, it also offers numerous attractions and educational opportunities for young and old.
An unforgettable trip full of possibilities
The welfare of the animals comes first. Specialists work together with scientific institutions and nature conservation organizations worldwide to ensure species and nature conservation. The animals live in naturalistic planted and furnished enclosures. Among other things, threatened and endangered animals such as hippos, okapis, orangutans or Madagascan beaked turtles can be admired in the wild. Numerous animals are housed in special animal houses, which is why a visit is worthwhile even in bad weather. There are also educational opportunities for those who are interested: guided tours are offered for children and adults alike. There are also guided tours of individual animal species especially for children's birthday parties. In addition, holiday workshops, lectures and rallies are offered at regular intervals. Rallies encourage independent observation of the animals and are a lot of fun at the same time. The stations can be put together individually. This year, four-hour workshops for children aged eight to ten will take place during the summer holidays. Games, animal observations and experiments not only offer a lot of variety: They help children in particular to understand the connections in nature. All in all, the variety of species and numerous offers make the zoo in Frankfurt a worthwhile family outing.