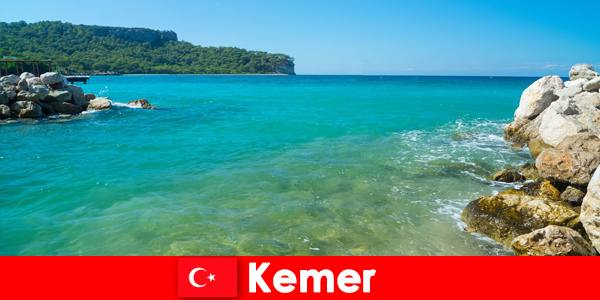 One of the most popular holiday destinations, Kemer is known as the place where Turkey's ancient cities and magnificent beaches meet. Kemer attracts the attention of vacationers with its natural beauties, historical structures, modern vacation options and delicious food.
Ancient cities and beautiful beaches to fall in love with
Kemer is also famous for its ancient cities. One of the most important cities of Lycian region, Phaselis is one of the ancient cities of Kemer and offers visitors a historical journey. In addition, ancient cities such as Olympos Ancient City and Chimera are located near Kemer. Kemer is home to the most beautiful beaches in Türkiye. Olympos Beach, Phaselis Beach, Moonlight Beach and Kemer Beach in Beydağları National Park are popular beaches where visitors can fully enjoy the sea, the beach and the special climate and weather. Swimming is hip!
Delicious dishes, beautiful nature, exclusive clubs await everyone
Kemer is also famous for its delicious dishes with traces of Aegean, Oriental and Mediterranean cuisine. The restaurants, which offer specialties of Turkish cuisine such as olive oil dishes, seafood, doner kebab and baklava, but also European and Far Eastern cuisine, meet the taste of the visitors. Kemer also attracts attention with its natural beauties. Natural areas such as Beydağları National Park, Göynük Gorge and Mount Olympos offer an ideal vacation opportunity for those who love nature sports such as trekking, paragliding, mountaineering and canoeing. Kemer is also a rich region in terms of modern vacation opportunities. It meets the needs of vacationers with luxury hotels, spa centers, golf courses, shopping malls and nightclubs.
Culture and art for family and friends
It offers many interesting options not only for vacationers and retirees, but also for those interested in history and culture. The ancient cities, historical ruins and museums surrounding Kemer offer visitors a historical and cultural journey. One of the ancient cities near Kemer, Phaselis is one of the most important cities of the Lycian region and fascinates visitors with its historical structure. Olympos Ancient City and Chimera are among the ideal options for those who want to explore their historical structure. Located in Çıralı, Chimaera is known as the sixth largest wooden structure in the world. It attracts visitors' attention with its flaming stones and natural volcanoes. The famous museum is located just a few kilometers from Kemer. The museum has an extensive collection that showcases the history, culture and art of the region. Also, the ancient city of Perge, near Kemer, can be visited like a museum.
Recommendation and exploring in beautiful Türkiye
Kemer offers not only natural beauties, delicious food and modern vacation options, but also historical and cultural wealth. Ancient cities, historical ruins and museums help visitors to have an unforgettable holiday experience.