Tourists from all over the world are drawn to Turkey. But this country is big and rich in history and culture. The country also lies on the Turkish Riviera, one of the most popular summer tourist destinations for Europeans. The question is: what do you prefer when visiting such a country? Just lie on the beach and enjoy the sun, wind and sea or discover the country as it is. The best way to discover a country is to understand it from the ground up. That means getting to know the culture of the people. And that includes the food that local people eat. In fact, tourists should feel ashamed if they travel to a country and don't even try local specialties. Because it is the specialties of a country that show the people who visit this country what values ​​and preferences the locals have. While many foreigners know the Turkish Riviera en masse from vacations in recent years or decades, Adana, located a little further inland in Turkey, is rather unknown. But this city is also worth a visit and can also be reached by plane.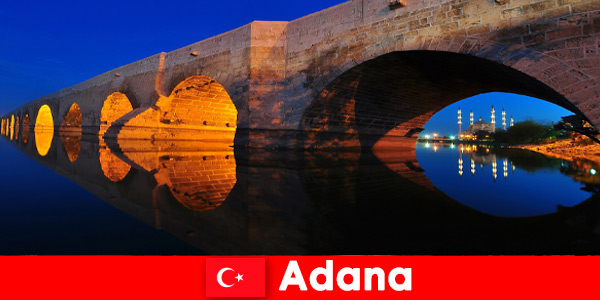 What is there to see?
This city, which has a population of around 2.2 million, has many well-known and historical structures, such as the stone bridge built over the Seyhan River, which is one of the oldest bridges in the world still in use. Also worth seeing is the 16th-century Ulu Mosque and the Hasan Kethüda Mosque. The Armenian Church of St. Paul, built in 1880, is also in this city and Roman Catholic services are still held there today. The former Greek Orthodox Church of Kurukopru is now a museum. The Yilankale (translated: snake castle) rises above the city. There are also other museums in the city, such as the Archaeological Museum and the Ethnographic Museum, as well as the Ataturk Museum and the Misis Mosaic Museum. But Adana is also a city of contrasts. Because there are also many high-rise buildings here. The city is located in the fertile lowland Çukurova.
Eat well
The city has its own history when it comes to cuisine. Since the city is not on the sea, fish and seafood hardly play a role in the regional cuisine. But it is the Adana Kebap that is considered a local specialty. But there are other local specialties, such as salgam, a non-alcoholic hot and sour drink made from vegetables. But the kebab from the region is very special. Because the minced meat is grilled over charcoal here. Grilled tomatoes and hot peppers also feature in this dish, as do lemon, parsley, radish and lettuce, and red onions. Flatbread, but also rice and cacik serve as side dishes. The basis of the minced meat is lamb and mutton. The kebap can also be served with mint yoghurt. Hardly anywhere else than in this city tourists can enjoy the kebab in this way.