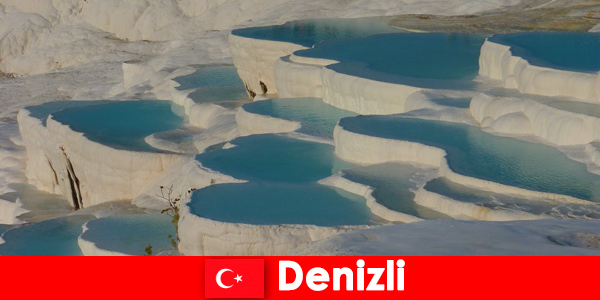 Denizli is a major tourist resort in western Turkey. One of the region's most famous tourist attractions, Pamukkale is one of the seven wonders of the world. Pamukkale is a natural beauty with white travertine terraces and thermal pools admired by visitors.
Natural sinter terraces – a unique experience
Pamukkale means "cotton castle" in Turkish. The region is colored white due to the formation of the travertine terraces. These terraces are a natural formation formed over the years and are visited by thousands of tourists every year. The thermal pools in Pamukkale are a place that tourists visit for their health and relaxation. Furthermore, it is on the UNESCO World Heritage List and is also considered as one of the most important places of world tourism. The region is a major source of tourism and is visited by millions of tourists annually.
Explore, experience and see
Pamukkale is also an important tourist spot because of the ancient city of Hierapolis and a popular tourist destination. Hierapolis is one of the most famous ancient cities in the region and became an important center during the Roman Empire. The most important buildings of the ancient city include a large theatre, necropolis, agora, thermal baths and St. Philip's Basilica. Pamukkale and Hierapolis contribute to Denizli being a major tourism destination. Besides the tourist attractions in the region, the thermal springs and natural beauty also attract tourists. Denizli is also an important place for health tourism. The thermal baths and facilities are places preferred by tourists for their health and relaxation.
Recommendation for visitors, family and friends
In summary, Pamukkale in Türkiye, one of the main tourist destinations in Denizli, is one of the seven wonders of the world. The natural beauty and ancient cities in the region are also other important sources of tourism. Pamukkale is one of the most famous tourist spots in Turkey and offers visitors an unforgettable experience.