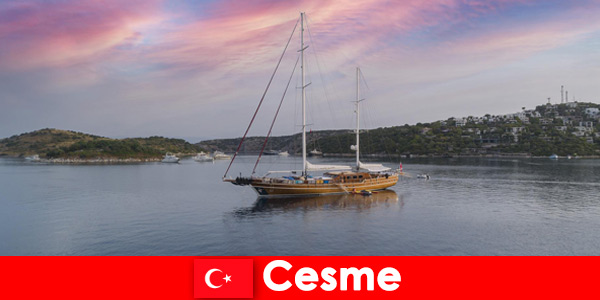 Cesme is located in the far west of Türkiye and attracts guests from near and far with its long beach. Beach holidaymakers also benefit from the thermal springs that bubble up around the city and make Cesme an interesting destination for a cure with various wellness treatments. When it comes to water sports activities, nothing is left to be desired. Boats and ships regularly depart from the marina for great excursions along the coast. Despite all the hustle and bustle in the bazaar, the holiday resort still exudes a certain calm and tranquillity.
Food, sights and lots of fun
In addition, the city, whose name literally means "fountain", has important cultural monuments such as the castle. Ancient ruins and churches are scattered throughout the city. Romans and Byzantines stopped by here. Valuable finds from the eventful past are best admired in the Archaeological Museum, including valuable gold coins, terracotta statues and mighty tombstones. The place is popular with both families with children and wealthy groups of people. However, it is still an insider tip, especially for Europeans. After a relaxing day swimming at the beach, it's time to stroll through the alleys of the old town in the evening and end the day in one of the many restaurants with a delicious meal of fish, meat or grilled vegetables.