Adana is the fifth largest city in Turkey. More than 2.2 million people live in the city. It is located in the fertile lowlands of Cukurova. One of the largest universities in the country, Cukurova University, is also located here. There is also a metro line in the city that connects the north of the city with the center. There are also many bus routes available for travelers from abroad. As an alternative, the Dolmus collective taxi can also be used here. The problem with this, however, is that this form of taxi is often overcrowded.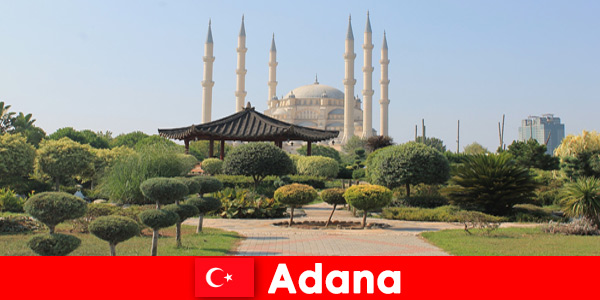 The sights for the historical educational trip in the city
The most important historical work in the city is the Tas Köprü stone bridge over the Seyhan River. This bridge was built by the ruler Hadrian. This bridge was restored in 2006 but is closed to motorized traffic. Another important historical attraction is the Ulu Mosque (also known as Ulu Cami), built in the 16th century, and the area of ​​the same name. The Hasan Kethuda Mosque (also known as Hasan Agi Cami – was also built in the 16th century) is one of the objects worth seeing. The Saban Merkez Mosque is also part of it.
Museum visits for historical history
Roman, Hittite and early Byzantine finds can be seen in the Archaeological Museum. This museum is open every day (except Monday) from 9:00 a.m. to 4:30 p.m. The Ethnographic Museum is also interesting. It shows exhibits on the tribes living in the Taurus Mountains in the Cukurova villages that existed there at that time. This museum is also open every day, except Mondays, from 9 a.m. to 4.30 p.m. There is also the Misis Mosaic Museum in town. Here you can see floor mosaics from the 4th century. This city museum is also open from 9:00 a.m. to 4:30 p.m. on Mondays.
Further activities
Outside of the historical program, there is the Yumurtalik moated castle in the vicinity for a little distraction. This is a preferred rafting sports center. The Thermal Camlipark is a large facility with thermal water baths. There are also zoos with a rich flora in the city. The nearby towns of Karatas and Yumurtalik are known for their beaches and can also be reached when visiting the city.