Cesme is a port city in Turkey, which is located at the tip of the peninsula of the same name. The port city is about 90 kilometers from the next largest city. There is also a daily ferry connection to the islands. The islands are mostly only 20 kilometers away from the port city.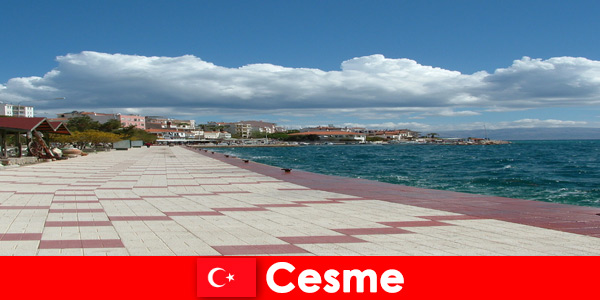 Old city with healing thermal springs
This place has also been a kind of bridgehead between Asia and Europe since ancient times. There was a frequent change of rulers here until the Roman Empire and then Byzantium had taken power over several centuries. This place was already a popular destination about 3000 years ago because of the sulphurous thermal springs and the oxygen-rich and mild air. You can also see on the post motif cards that there is still a touch of exclusivity and that this place has been largely spared from major mass tourism so far.
Visiting the old town and the surrounding area as a special experience for foreign guests
The port city, like many other places on the Turkish Agai coast, has a Greek influence. So you can see many old fountains when strolling through the old town. Hence the name of the city comes from. An important building in the old town is a Genoese fortification. From there there is a unique view of the bay and the city. Ottoman military equipment can be viewed in the museum in the old town. There is also a former caravanserai from the 16th century in the old town. Nowadays this building is a hotel. The tranquil bank with its restaurants and bars also invites you to linger and go for a walk. Furthermore, there are beautiful and still quiet beaches in the vicinity of the thermal springs in the city. There is also a regular bus connection to the center of the city from Altinkum Beach (there is fine sand here).
Wonderful places to touch and experience
About 6 kilometers southeast of the port city is Alacati. There is a mosque in the old town. There is also architecture influenced by Greek and Turkish to be seen there. There are also a large number of windmills in the vicinity of Alacati that can be viewed. The largest resort on the peninsula is Ilica. There is an extensive sandy beach there. There are also thermal springs there that deliver water up to 55 degrees Celsius. Thermal springs can also be found in Sifne. About 20 kilometers east of the port city is the ancient city of Erythrai. An Athene temple, fortifications and the agora can be visited there.