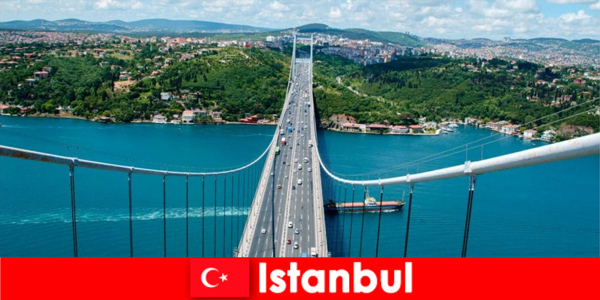 Istanbul is one of the most popular holiday destinations in Turkey. The city is known for its rich history, cultural treasures, natural beauty and great cuisine. In addition, there is also a colorful nightlife in Istanbul, which offers a perfect experience to the vacationers. Another attraction for vacationers in Istanbul is the Bosphorus and the islands. The Bosphorus is a waterway that connects Asia and Europe. The Bosphorus attracts visitors with its historical buildings, magnificent views and seafood restaurants. The Istanbul Islands also offer a peaceful escape from city life. The islands are known for their natural beauty, beaches and traditional architecture. A holiday in Istanbul allows you to enjoy the colorful nightlife. The city is very lively at night and there are many nightclubs, bars and taverns. Neighborhoods like Taksim Square, Kadıköy and Bebek are popular spots for nightlife. In addition, many open-air concerts and festivals are held in Istanbul. These events offer visitors a great opportunity to experience a night to remember.
Turkish cuisine with many delicacies
You can enjoy delicious dishes in Istanbul. Turkish cuisine is known worldwide and Istanbul cuisine is one of the richest cuisines of Turkish cuisine. There are many options for dining in Istanbul and visitors can find dishes from world cuisines in addition to traditional Turkish dishes. In Istanbul, there are taverns, cafes, restaurants and street vendors offering a variety of dishes to suit the tastes of visitors. Local Istanbul delicacies include fish sandwiches, kokoreç, doner, kebab, börek and sweets. In addition, drinks such as Turkish coffee, tea and Ottoman syrups are an important part of Istanbul cuisine.
Outlook for the trip to Istanbul in Türkiye
In summary, Istanbul is one of the best options for a vacation in Turkey with its delicious cuisine, colorful nightlife, Bosphorus and islands. Visitors can discover Istanbul's historical and cultural treasures, enjoy its cuisine and experience its lively nightlife. The city's dishes offer a different flavor than traditional Turkish cuisine. Istanbul's traditional dishes include baklava, doner, kebab, fish sandwiches and many other delicious dishes. These make Istanbul a world-renowned center for culinary delights.