Turkey undoubtedly has some very interesting and special places to offer. The district town of Fethiye must certainly be counted among these. It is not just their 68,000 inhabitants that take care of it, but rather their interesting location. The city lies on the Gulf of Fethiye of the same name in southwestern Turkey and is therefore part of the Mug-la province. Incidentally, if the associated district is still included, the population and population increases to 181,000 people.
The interesting location
Not only from today's perspective, this city in southwest Turkey is truly blessed with an interesting location. The Fethiye is located at the site of the so-called Lycian Telmessos, which goes back far before the birth of Christ. Experts believe that the settlement of the region also goes back to this age. If Fethiye or the former settlement is seen together with Kadyanda, it is even the western border of the historical Lycian Federation of Cities, which is historically very important.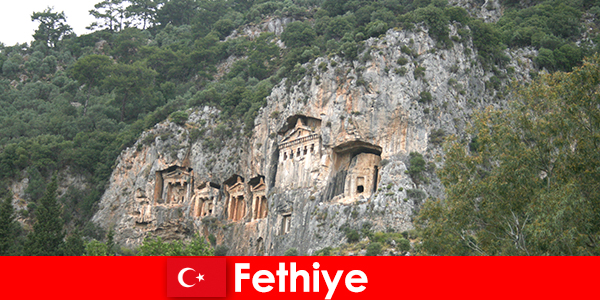 The sights on site
Not only the good climate can be enjoyed on site, because the district town of Fethiye also offers great and exciting sights. If you love the sea and the beach, you should not miss a trip to Calis Beach. Not far from the city of Fethiye there is a large beach, which is not overcrowded and thus offers wonderful opportunities for swimming and sunbathing. It is interesting that there is always a breeze at this place, so that the very hot temperatures can be better endured, especially in summer. A visit to the old town of Fethiye should not be missed. This venture not only admires the small and sometimes very winding streets, but also traditional markets, the goings-on of which can be an interesting sight for tourists. At the same time, traditional Turkish restaurants can be found in the old town of Fethiye, where classic Turkish cuisine can be enjoyed. An absolute and absolute must when visiting is also the Pinara Antique City near Fethiye. It is a historic settlement, which was created and struck directly in a mountain and is therefore astonished by the mere sight of the viewer. Another plus is that the holidaymaker enjoys a wonderful overview of the valley from this location, which alone is worth the effort.
Fethiye in Turkey is a great holiday city. Its location is perfect for tourism, especially since a lot of sights can be found at the same time.