Sun, snow, untracked slopes and no waiting times at the lifts. This is the dream of every skier or snowboarder. This dream can come true. Read on to learn more……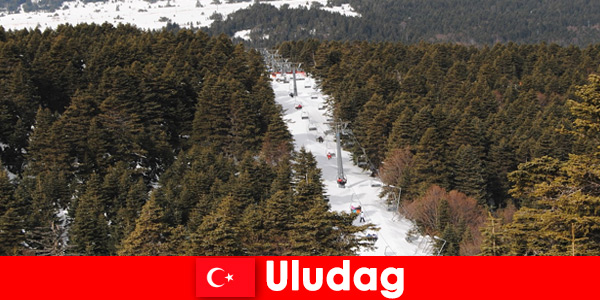 Skiing on Mount Olympus
Turkey is not necessarily associated with skiing, but rather with beach holidays, all-inclusive holidays or cultural and city trips. But especially the Turkish interior is still an insider tip for skiers. Individualists who appreciate the beautiful landscape and nature and who also like skiing are in good hands in Uludag. There is a large number of slopes, modern gondolas and downhill runs of all difficulties. The ski resort is the oldest and largest in Turkey. Located in a national park, it has been in operation since 1961. Skiing is also very popular there, especially during the holidays. In general, skiing is possible from December to March. There are also heli-skiing offers on site, which are very popular with outdoor lovers. This makes it possible to fly up a mountain of your choice and then hopefully be able to enjoy the descent in deep snow or spring firn.
Hospitality and culinary delights
The south is not only known for its hospitality, people also like to plan their vacation trips there because of the special and excellent cuisine. In the vicinity of the ski area there is a large number of accommodations in all price categories. Browse through common platforms, you will definitely find a suitable object for your stay.
Unique nature experience
For individualists who are looking for a spectacular holiday home and like to ski, the Turkish Uludag is definitely worth a visit. The national park guarantees a spectacular nature experience. The ski area is at an altitude of between 1600 and 2000 m. Most of the runs lead through the forest, which can offer a unique snow experience even when the weather is not so great.
Conclusion
Look forward to your holiday trip to the mountains of Olympus. The country not only offers sun, beach and sea, the sports facilities are also unique and definitely an experience that you will definitely remember and rave about to your grandchildren.