Turkey is a travel destination that is becoming more and more attractive for Germans. There are many reasons for that. The always ni-ce weather, the many offers and, last but not least, the affordable price make Turkey very popular, especially with the young audience. Kemer is one of the places that people like to visit again and again to spend a vacation here. In addition to the beautiful hotels by the sea, you can see and experience many things here.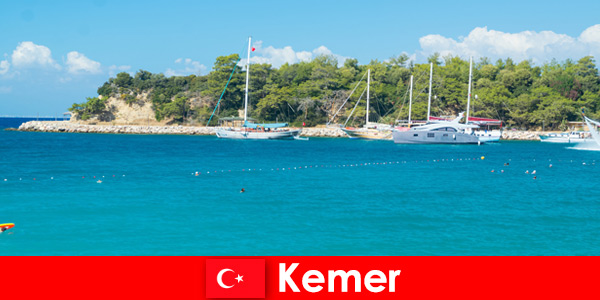 Boat tours on the sea
The water is crystal clear and has the perfect temperature for bathing. Many locals have taken advantage of this and offer holidaymakers a boat tour that you should definitely have done. Here, too, the prices are very fair and you can get great experiences for a few euros for a day. There are different offers for tours at sea. You can stay on a small boat where you relax primarily. You go out to sea and can snorkel with turtles, for example. These tours are especially popular with families. Most trips even include a meal and a drink in the price, so that you are well catered for here. You either have to bring your own drinks with you, or you can buy them for little money directly on the boat.
Parties on the boat
In addition to the tours already mentioned above, there are also completely different trips where other things are in the foreground. These are party boats that are significantly larger and are particularly popular with the young audience. Here you can choose different packages. With most providers you can choose an all inclusive program. So you can order all drinks on the boat for free. So you have a whole day on a boat in a good mood and don't need to worry about anything. If you feel like partying as a holidaymaker, you can always find a good party and have a lot of fun even during the day.
Foam party on the sea
So you can experience a lot on a boat tour. In addition to the normal parties, you can always find organizers here who offer foam parties. At these events you not only have good drinks and good music, but also a lot of foam. Many still know this from the 90s, when these foam parties were all the rage. In Kemer you can still experience this and thus have a highlight on your vacation. If you decide to take part in such a trip on the boat, you can book it directly in the hotel or in the city or directly at the port with the providers. As a vacationer, you can't go wrong here. You can take such a boat trip here for as little as 20 euros. If you book an all inclusive package, it will of course be a little more expensive, but that is not a bad thing because you really get a lot on offer.