A shopping spree is great fun on the best shopping streets in Madrid. Here the stranger will find an enormous selection of well-known designers with offers in the best shops in town. The collections of great designers are usually at the top of every shopping list on a shopping trip to Spain. But there are also cheap electronic devices, jewelry and much more that appeals to strangers. The best shops can be found in Madrid's most popular shopping streets, which are centrally located in the city center.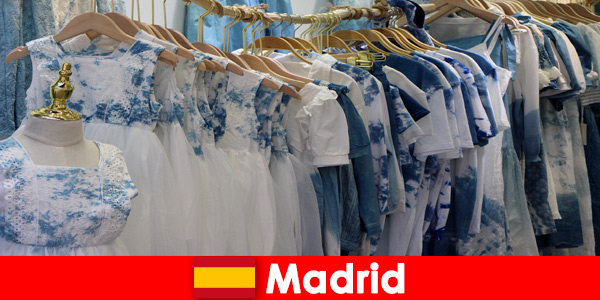 Bargain hunters and the best time to shop
Specials are available all year round in Spain's capital, but the best time to find bargains is January – March (winter collections) and July – September (summer sales). Special promotions are available on days like "Black Friday". We present here the main shopping streets for tourists.
Calle Gran Vía – main shopping street in the city of Madrid
The Calle Gran Vía is 1.3 km long and is very centrally located. Theaters, cinemas, restaurants and the best shops are lined up along this Calle Gran Vía. Many also call this street "the street that never sleeps". World-famous brands have their shops here. Large department stores have their stately-looking buildings on the main shopping street.
Calle de Preciados – pedestrian only shopping street
Calle de Preciados is the pedestrian street south of Calle Gran Vía. It is around 500 meters long and is one of the most popular shopping streets in central Madrid. There are video games, men's and women's fashion, and other products in small boutiques and large department stores. In the front part of the street you can treat yourself to a break from shopping in the tapas bars and restaurants.
Calle de Serrano – Elegant designer fashion and jewelry in a sophisticated atmosphere
Calle de Serrano is 3 km long and is located north of the city center. Shopping malls, jewelry and watch stores, designer shops and many international luxury brands can be found in the southern part of this elegant street. In the Calle de Serrano you will find everything your heart desires if you want to shop in the luxury class. A wide range of restaurants are also rented directly in the shopping centers. Many luxury hotels are located in the district between Plaza de la Independencia and Plaza de la República Argentina. Visitors to Spain should definitely make a detour here.
Calle de Fuencarral – Unconventional shopping street in the middle of Madrid
The 1.5 km long street lies north between Calle Gran Vía and the Glorieta de Quevedo. Calle Fuencarral is a hip, modern shopping street, especially known for alternative fashion labels. Here you will of course also find well-known names, but also unknown, very talented young designers present their creations here. With the tattoo and piercing studios, Asian shops and the cozy cafés and restaurants, you can feel the unconventional artist flair everywhere on Calle Fuencarral. Shopping is a lot of fun here!