Denizli is a Turkish provincial capital with more than 1 million inhabitants. The city is located in the Aegean region and is the second largest city in that region in Turkey.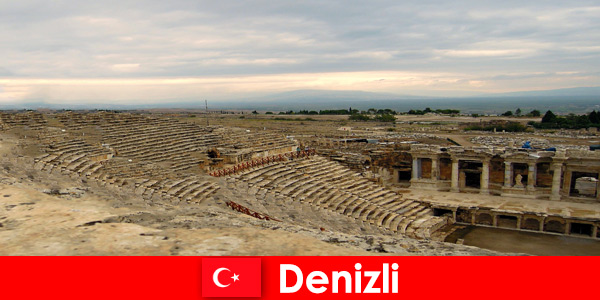 Story to experience
The first settlements in this area date back to around 4000 BC. The area was conquered and settled by many nations over the course of time. These include, for example, the Hittites, the Greeks, the Phrvgern, the Romans, the Mongols and the Seljuks. The city itself is located in a somewhat hilly landscape and belongs to the catchment area of ​​Cürüksu Cay. The Vali Recep Yazicioglu dam is located in the immediate vicinity in the east of the city. The city is also about 190 kilometers from the Gulf of Gokova on the Aegean Sea.
The sights in the vicinity
There are some important sights in the vicinity of the city. Tours of several days to the holy places are also offered for those interested in the wider area. Akhan Seljuk Caravanserai is approximately 6 kilometers northeast of the city. A larger area of ​​this has been preserved. remained. This caravanserai was built between 1253 and 1254 by Karasungur bin Abdullah. He was in command of the city. There are still some konaks near the caravanserai. At that time, these were used by visitors to stay overnight. To the north of the city are the limestone terraces of Pamukkale and the adjacent ruins of the ancient city of Hierapolis (there was also a holy site there at that time – Hierapolis was also built as a health resort in antiquity). Both the ancient city of Hierapolis and the limestone terraces are now a UNESCO World Heritage Site.
Worth seeing and interesting
The spring water in Pamukkale contains calcium hydrogen carbonate. Due to the pressure drop, carbon dioxide escapes here when it escapes. Here the solubility limit of calcium carbonate is exceeded. This creates a form of travertine. At these springs, around 250 liters of thermal water (at around 30 degrees Celsius) are poured out in one second. This means that 21,600 cubic meters of thermal water flow out here every day. The limestone clot present here, which runs down the mountain in the form of a petrified waterfall, forms a unique and unusual natural phenomenon here. Thus, white limestone cascades, which are then bathed in a pink light at sunset, can be viewed by visitors. So-called "natural bathtubs" are then available on the limestone terraces for the healing and warm spring water. The effect of these thermal springs in Pamukkale was already used by the Romans against arthritis and rheumatism. The Beycesultan archaeological site can also be found near the city in the village of Civril.