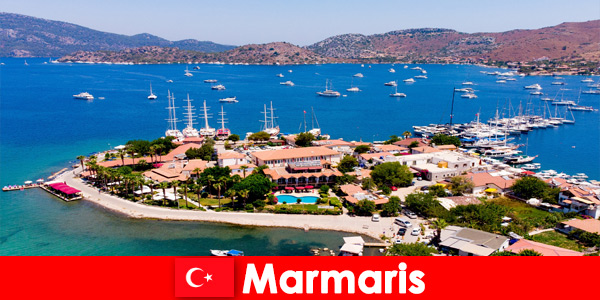 Marmaris, in the Turkish Aegean region, can clearly be described as a luxury travel destination and an absolute "happy place". The Mediterranean city on the Turkish Riviera is perfect for a relaxing holiday for couples. In addition to a long beach, there is a beautiful stone beach and the varied nightlife is also particularly noteworthy. Here everyone can decide for themselves whether they would rather have a ni-ce drink at the bar or whether they would rather dance the night away. Both are incredible fun at this place. The special Mediterranean air, the freedom and the holiday feeling. In addition, of course, the most important person should not be missing, your own sweetheart is with you on vacation. Of course, passion must not be missing either!
All travelers enjoy the pure experience
Couples will find relaxation here and, if desired, action in the evening hours. In the so-called Bar Street there are some open-air clubs and also closed discotheques. During the day you can relax, sail or dive on the not too crowded beach. Marmaris is located in a valley between the clear sea and wonderfully scented mountainous pine forests and a waterfall. This wondrous place in Türkiye invites you to dream. A luxury travel destination, sun, sand and sea and the beloved partner at your side and the world is perfect! There are so many famous places in Türkiye that host so many tourists every year. Marmaris is a real insider tip!