Every year we think about where our next vacation destination will take us and we are always looking for new places to explore. Of course, you have certain ideas of how a family vacation should work and then of course you want to implement everything as you wanted it to. We would like to introduce the holiday destination Turkey, more precisely the city of Antalya, and show you what you can experience here. For example, there is a perfect climate in this beautiful city and therefore you should spend your family vacation here. The country is also very child-friendly. It will welcome you and give you the perfect vacation. You want to guarantee that your weeks in this country do not fly away so quickly, so it is important to inform yourself well about the local conditions beforehand. For example, you should see how far your hotel is from the beach. You should get to know Turkey better and take a closer look at Antalya. The city is definitely perfect if you want to see the country. Because from here the best vacation destinations are available.
Beaches and the sea
Of course you spend a vacation in Turkey because there are very beautiful sandy beaches. This is exactly what can be achieved with good vacation planning. A lot of families spend their family vacation here because they want to go to the beach every day. Then they eat in the hotel. But it doesn't have to be that way. Because there are a lot of perfect restaurants in Antalya, where it is worth staying. You will get to know the cuisine of Turkey very well. You should definitely dare to eat a delicious meal in this city. Would you like to spend time together for two during your vacation? That's no problem at all. There is usually also a good program for your children in the hotel. So they will never be bored and you can spend a little time with your partner. Maybe you will even fall in love with this country and think about emigrating? In any case, everything is possible and nothing has to remain unfulfilled if you are planning a vacation here.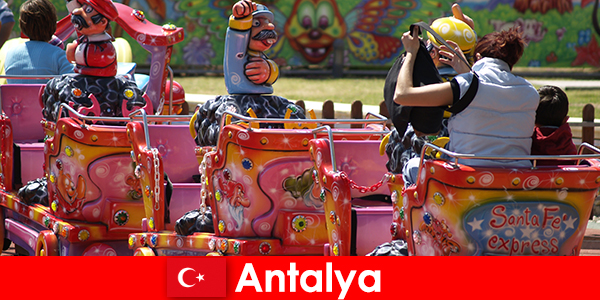 Look at the port
Antalya is ideal for trips. During your family vacation you should have seen as much of the city as possible. You can't avoid looking at the city's port. The most beautiful yachts in the world anchor here and there is a beautiful view from which you have the opportunity to take a closer look at everything. Of course, your children will also be amazed by this sight. You should just show them how the rich and beautiful get to Antalya. You can also go hiking here. You can just run and see the city at any time. It is a city steeped in history that offers a lot to see. You have it in your hand and can just go hiking and make your family vacation in Turkey so unique. But maybe you also come here to look at the possible properties because you are looking for a permanent living arrangement? That is also very possible. For this you should simply have a look at the vacant apartments. There are many of them and you can rent them.
Vacation with a difference!
In most resorts you have to worry about the weather at any time. Unfortunately, nobody can promise the weather you want during your vacation six months in advance. In Antalya in Turkey, however, it is different. There are three months here when the rainy season is raging. But that's not a bad thing, because the climate is also very mild during this time. It is good to know that you can always expect good weather in the other nine months and that is what matters. You will love and enjoy this time. You can fully devote yourself to your family and that is what a family vacation is all about. All you have to do now is find your vacation and simply book it. You are guaranteed to come back to this beautiful country to experience even more!