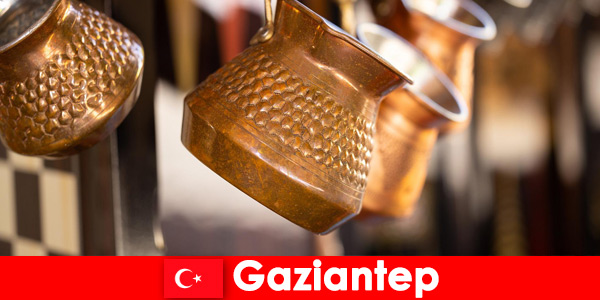 Bazaars in Gaziantep are a real experience if you are interested in real craftsmanship, local products such as nuts and exotic spices and herbs, as well as the unmistakable flair of a typical Turkish wholesale market and would like to experience this unique atmosphere. The markets are the center of life for the locals and at the same time an attraction for tourists from all over the world who want to experience a piece of original, traditionally rooted Türkiye.
Experience for lovers of copperware
Gaziantep's copper market is world-renowned for the excellent quality and workmanship of all copper goods. There you can still marvel at genuine handicrafts that are now unique in the world and buy copper goods, where you can watch the blacksmiths at work. A trip into the city for shopping is particularly exciting if you leave the main street of market traders and visit the smaller shops. Mainly these are small, traditional handicraft businesses where you can shop cheaply. Worth seeing: The entire area is deliberately kept in the traditional architectural style of the hundred-year-old buildings in Türkiye.