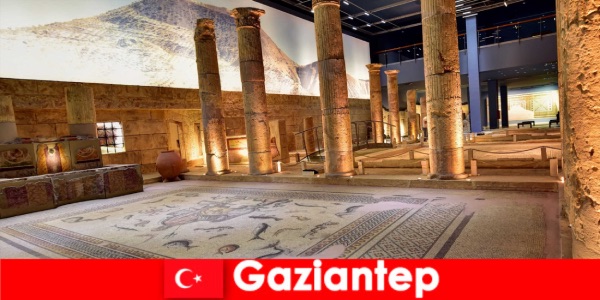 Gaziantep is one of the most important cities in Southeastern Anatolia region and has become the focus of tourists with its historical, cultural and gastronomic wealth. The city has hosted many civilizations throughout history and traces of these can still be seen in the city. Also known as the city that prepares the most delicious cuisine in Turkey, Gaziantep is also famous for its traditional handicrafts.
Cultural sights from ancient sites to beautiful handicrafts
The historical texture of Gaziantep is very rich and it is famous for its historical artifacts. The ancient city of Zeugma is one of the most important historical sites of Gaziantep. The city west of the Euphrates was an important port of the Roman Empire in ancient times. Many important artefacts were unearthed during archaeological excavations in the city and these artefacts are exhibited at Gaziantep Archeology Museum. Gaziantep is famous for its traditional handicrafts, historical and cultural wealth. Handicrafts such as copperwork, carpet weaving and silverwork are part of Gaziantep's cultural heritage. The products of these handicrafts can be found in the bazaars and small shops of Gaziantep and are bought with interest by tourists.
Experience oriental cuisine and nature
The gastronomic richness of Gaziantep is also a factor increasing the city's tourism potential. Turkey's most delicious dishes can be found in Gaziantep cuisine. Besides desserts like pistachio, baklava, katmer, many delicious dishes like lahmacun, kebab, local soups and olive oil dishes are among the main features of Gaziantep cuisine. Gastronomic festivals held in Gaziantep have also become the focus of tourists' attention. Gaziantep is also a city that stands out for its natural beauties. Located in the center of Gaziantep, Şahinbey Park is an escape point full of natural beauty in the city. In addition to Şahinbey Park, there is also a beach near the Zeugma Mosaic Museum that reveals the natural beauties of the Euphrates.
Recommendation for all travelers to Gaziantep in Türkiye
As a result, Gaziantep is the focus of tourists' attention with its historical, cultural and natural beauties. Ancient cities, museums, historical mosques and other historical buildings in the city impress the visitors. In addition, the city's delicious food, traditional handicrafts and souvenirs are also the focus of tourists' attention.