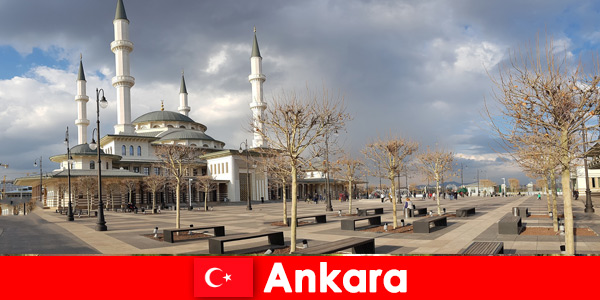 Culture lovers who take a city break in Ankara on recommendation will be more than enthusiastic about the cultural sights.
The most popular cultural sites are presented here.
In the north of Ankara, on a mountain almost 1,000 meters high, there is a citadel that is almost 4,000 years old and was once built for military defence. The walls of the former inner city and a few of the once twenty towers of the outer city are still standing today. The largest of all mosques in Ankara and also one of the largest in the world is located in the south of the city in Kocatepe. The complex construction was only completed in 1987 after almost 20 years of construction. It can accommodate more than 24,000 visitors at the same time. The imposing dome, the numerous decorations and the beautiful marble decoration are particularly traditional. Translated from Turkish, Anitkabir means funerary monument. As a mausoleum, it is one of the most important and culturally central buildings in the country. It serves as a national monument and museum at the same time. A visit to this funerary monument is a must for any culture lover on their Türkiye city break. The Museum of Anatolian Civilizations is one of the most important museums of archeology in Türkiye. Parts of the collection even belong to the UNESCO World Document Heritage. The focus of the exhibits on display is on the culture of the Hittites. This museum can really be recommended for all culture enthusiasts.