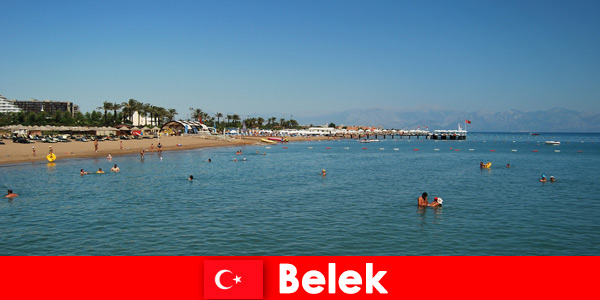 A holiday in Belek, Türkiye is not only wonderful for foreigners in that you can enjoy the sun, beach and sea, but it is a holiday with many facets. The wonderful nature is paired with the bathing pleasure. The cheap holiday is popular with tourists. The city is located on the Turkish Rivera, about 30 km from the capital. In earlier times Belek was still in the pine forests, but thanks to the golf courses and hotels these have mostly been cleared. The majority of the city consists of hotels and this in the upper class. One can enjoy the sun, sand, sea and more here in Türkiye without regrets. The many golf courses are also very popular with enthusiastic golf holidaymakers. By the way, many football clubs come to training camps here in the city.
Combine fun and sights
The reputation that this city is the very best spa town precedes it. This is also due to the many beautiful sandy beaches. There are also many sights here. If you are interested in culture, you can go on excursions in addition to swimming. There are architectural and historical sights. For example, the national park "Kepryulyu Gorges" is an attraction. the beautiful cypresses and eucalyptus forests delight many tourists. There is also a dolphinarium here. Families can enjoy the aqua park and relax at water slides and many amusement facilities.