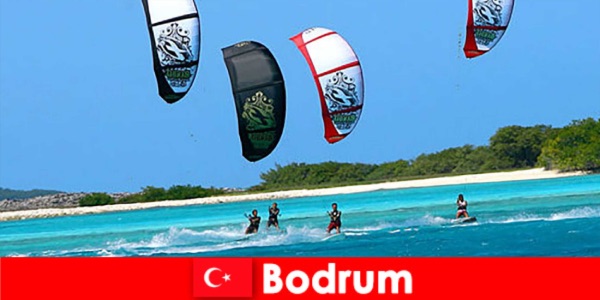 Bodrum is one of the most famous tourist destinations in Türkiye and at the same time the favorite place for entertainment and adventure lovers. Water sports and entertainment in Bodrum allow vacationers to have an enjoyable and unforgettable experience. In this article we will give you information about the most popular water sports activities in Bodrum.
Popular and inclusive water sports for family and friends
Bodrum is an ideal spot for kite surfing. It is performed on a surfboard using a kite controlled according to the speed of the wind. Many beaches in Bodrum have ideal conditions for kite surfing and many water sports centers in the area offer kite surfing equipment and instructors. Another popular water sport activity that you can practice in Bodrum is wakeboarding. This sport is performed using a motorized boat or a cable system. It is performed on a wooden kayak with your feet and slides quickly on the water surface. Another popular water sport activity where you can indulge in the wind and speed of the water is jet skiing. There are many water sports centers in the region that offer jet ski rentals and you can spend a pleasant time doing this exciting water sport activity.
Recommendation and exclusive for vacationers
For those who want to discover the rich underwater life of Bodrum, scuba diving is a great choice. Bodrum Underwater Archeology Museum is not only home to historical ruins but also many underwater creatures such as colorful fish, coral reefs and sea turtles. Another popular water sport activity in Bodrum is parasailing. You can hang high in the air and enjoy the wind and take in the amazing views. You can float in the air with a sail pulled on the water surface and have an unforgettable experience with a magnificent view.
Culture, beach, swimming and great climate for an experience in Türkiye
Bodrum is a paradise for water sports and entertainment lovers. There are many activities here that will enable you to have an unforgettable holiday experience. If you want to make your vacation more adventurous and fun, you should definitely take part in water sports activities in Bodrum.