After about half a year from Monday to Friday or even Saturday in the office and production, many people are exhausted and long for their vacation. In the opinion of many, a vacation trip should be a recreational trip. For this reason, you should choose a vacation spot that can offer exactly that – rest and relaxation from everyday stress and work.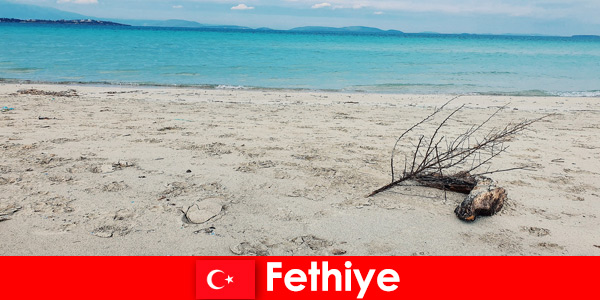 Tour of Fethiye
The city of Fethiye is very suitable here. This city is located in the Turkish Aegean region, where it also belongs to the Turkish Riviera region and is located at the foot of the Mendos Dagi, a foothill of the southwestern Taurus Mountains. The harbor and the old town are protected in a bay, also known as the Knight's Island. To the south of the city, a wedge-shaped plain extends about 25 kilometers to the north and east. The view to the north is dominated by the 2418 meter high Boncuk massif and south of the city extends a valley, a promontory. In the midst of the landscape of sea, beach, greenery and mountains, stressed tourists will surely find their peace – so much should already come out of this description. Because honking cars and stressful car traffic do not exist in this region of Turkey.
Culture and History
Fethiye is not only interesting for tourists who are looking for peace and relaxation on the beach or in the mountains while hiking. Since the history of the city goes back to at least the 13th century BC. Christ, there is also much to discover from prehistoric times. One testimony is the rock grave from Lycian times. The city experiences a rollercoaster of history and cultures.
Sights and beach
Stressed tourists who want to immerse themselves in the culture of this city in Turkey should let themselves be carried away to discover the remaining cultural treasures of the old town of Fethiye. The traditional Eski Hamam, a bathhouse from the 16th century and the Eski Cami mosque from the late 18th century have been preserved. The main attractions, however, are the rock graves above the city center in the rock walls and the gable sarcophagi scattered across the city in situ on squares and paths. Also worth seeing are the Acropolis plateau and the ruins of the Hellenistic theater that is currently being uncovered. All of these sights are unique to the Turkish Riviera. Close to the harbor is the bazaar area with numerous restaurants, bars and shops. Just stopping by the restaurants and bars in town can be part of a vacation trip. Mediterranean cuisine is what you encounter here.