Malaysia's capital Kuala Lumpur is a versatile vacation destination. The multicultural society is characterized, among other things, by excellent craftsmanship. The arts and crafts, which have been booming in Malaysia for decades, are influenced by nature. Culture tourists can admire a huge selection of handicrafts made from brass, bronze, wood and ceramics, for example. Indigenous groups based in Kuala Lumpur offer tourists an extensive range of headdresses and silver jewelry.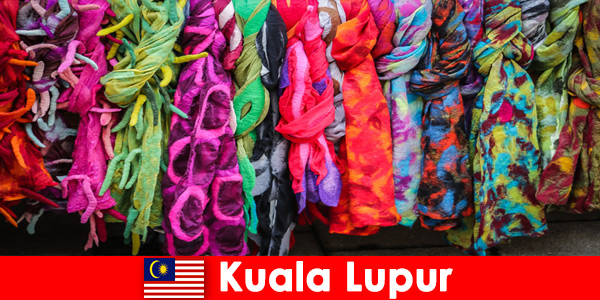 Discover excellent craftsmanship
The traditional batik handicraft is an integral part of the culture of Malaysia. Textiles are dyed using batiks. Batik is just as widespread as weaving. For example, the Songket fabric, which is coveted by cultural tourists and locals, is hand-woven. It consists of cotton and fine silk and is patterned with silver and gold threads. The Pua Kumbu fabric is also woven by hand. It has a deep religious meaning for women. The majority of hand-woven fabrics are made from the fibers of native plants.
More excellent craftsmanship
Other popular products from the arts and crafts sector are sculptures, pearl jewelry and wood carvings. One population group is known far beyond the country's borders for its ornate wall paintings. From designer clothes to housewares, handcrafted products in Malaysia are always colorful. Another specialty from Malaysia's handicrafts are the colorful, large kites made by hand from rice paper and bamboo. In many places in the country foreigners can watch the production and buy a kite directly.
Shop for handicrafts in the capital
Cultural tourists can buy these products, which are typical of excellent craftsmanship, in three federal territories and in all thirteen Malay states. In the capital with its numerous parks, a wealth of souvenir shops are lined up between the skyscrapers, in which the popular souvenirs are sold. Another popular place to buy Malay handicrafts and other souvenirs is the Central Market. An abundance of small stalls offering a wide variety of products are lined up on several floors in the beautifully designed market hall. For foreigners interested in art, there is an incredible amount to discover here. For all those who can't get enough of the beautiful handicrafts, workshops, for example batik courses, are offered in show workshops in the capital and all over the country.
Experience Malay culture
Another possibility for foreigners to discover a piece of Malay culture up close, to enjoy the hustle and bustle, to come into contact with locals and to buy handicrafts and other souvenirs is offered by the numerous markets, especially the night market in Kuala Lumpur. Tourists who watch the hustle and bustle easily come into contact with the hospitable locals at markets. Entertainment is guaranteed with a tour of the markets. The physical well-being is also well catered for, as there is constant cooking in every market. All kinds of restaurants can be found on the busiest, largest food street. They are open until well after midnight and also serve Western dishes to hungry tourists.
For all those who can't get enough of the beautiful handicrafts, workshops, for example batik courses, are offered in show workshops in the capital and all over the country.
Islamic influence can be seen everywhere
Regardless of whether it is handicrafts or culture: the strong Islamic influence can be seen everywhere. The royal palace and the mosque are well worth a visit. A visit to the Museum of Islamic Art is also recommended. A visit to a performance in the National Theater should also be on the program. In addition to theater, dance and music are also performed here.