The Penang Island is an insider tip in the northwest of the Southeast Asian country Malaysia is a melting pot of cultures and offers foreign visitors not only art, cultural tourism, culinary art and a lot of unique nature.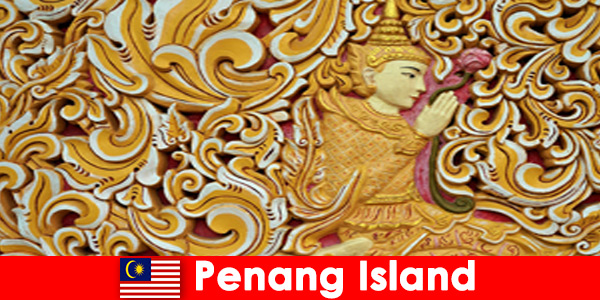 Cultural tourism on Penang Island
Foreign visitors find a special attitude towards life in George Town, the capital of this small island in northwest Malaysia. It only takes a few hours to drive around it. However, only 220,000 inhabitants offer a true melting pot of many cultures. The influences of Malays mix with Ind-ian and Chinese cultures and the remnants of British colonial times. No wonder in 2008 Unesco named the old town a World Heritage Site, in addition to the wonderful, unique architecture of the small port town.
Popular destination for foreign visitors
Foodies and culture fans love Penang Island, so it's no wonder that cultural tourism is flourishing. It's a unique mix with completely different impressions. In the end, however, they give a very coherent picture. Colorful shophouses are just as much a part of Penang Island as buildings from the colonial past. Street art is blooming and diverse! Street art has only emerged in the last decade. Since 2011, this street art can be admired on a large number of house facades. More and more installations and graffiti images are being added all the time. The works always tell stories, regardless of whether they are known or unknown artists. For us Europeans, Penang, the approximately 300 square kilometer island, is becoming an increasingly popular travel destination. A big advantage is that the accommodations are affordable in Penang. Those who are economical with money can get a ni-ce twin room, small souvenirs and delicious food for 20 euros per day. George Town is known and loved by holidaymakers for its inexpensive street food. You can stroll through historical alleys and admire colonial buildings as well as the Chinese shophouses with typical arcade entrances. Besides the architecture, there are wonderful beaches.
Discover nature at Habitat Penang Hill
Since 2016 there has been a nature trail on this hill that leads through the rainforest. This gives you a comprehensive view of the flora and fauna of Malaysia. King cobras, butterflies, tropical birds, giant squirrels and also turtles are said to be at home in this nature reserve. The Habitat is practically a cross-section of Malaysia's nature – but George Town is the cross-section of the cultures of this country.
A worthwhile travel destination all year round
The beauty and multifaceted history characterize George Town and attract tourists all year round. George Town is typical of Penang. There is a famous mansion, the Cheong Fatt Tze Mansion and the Kapitan Keling Mosque, as well as many gold-crowned Buddhist temples. Museums in which countless historical treasures of Malaysia are shown. Restaurants with traditional Malaysian cuisine await visitors as well as dozens of shopping centers. Everyone will surely find something for their taste here.
Guided tours are also offered on Penang
This guided tour is planned for 8 hours, but you can also customize your own tour in Penang. You can select several attractions offered and determine for yourself how much time you want to spend on each of the attractions. Island tour can be undertaken in an air-conditioned car. Those who don't have a plan of where to go or what to do can turn to an experienced tour guide. The guide will then escort you into the attractions and comment on everything along the way. Penang has an incredible number of cultural attractions to offer.