Tourists flock to a very special city in northeastern Italy every year: Ven-ice is historically known as La Serenissima. In German "The Most Serene" – that can only be the name of a place with a special attraction. Gondolas and a picturesque lagoon, places steeped in history and art enchant visitors. Small tips for the planned vacation there in Italy have their value. Because with all the beauty of the city, which also has the status of a UNESCO World Heritage Site, there is also a pitfall. The capital of Veneto regulates bans by police ordinance. Ven-ice lovers should know these better for a carefree vacation.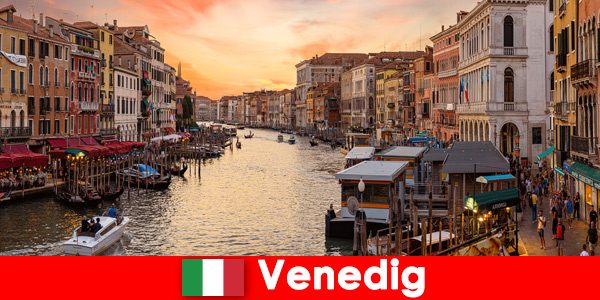 Small tips help you get through your vacation unscathed
Ven-ice in itself makes it easy, because holidaymakers know many rules from home. In spite of all the enthusiasm, it is important not to lose your head and think. You shouldn't swim in the canal when on vacation in Ven-ice. Peeing in public or throwing rubbish on the street are also taboo. Also undesirable: walking through the streets half-dressed, feeding pigeons or wild camping. In the lagoon city, these things are punished with sometimes high fines. Relaxation on vacation is definitely wanted. But then you can even throw it overboard without good manners. Fortunately, the cultural richness of this dream city inspires cultivated behavior.
Visitors should definitely pay attention to these prohibitions in the lagoon city
On the other hand, the police ordinance for tourists has its peculiarities. Different countries, different customs – that means in this beautiful city in Italy that visitors have to reckon with special rules. For example, you are not allowed to use a bicycle in the Venetian old town. This is only allowed for residents and children under eight years of age. No alcohol may be consumed in public after 7 p.m. You should also refrain from a comfortable sit-in on the stairs of historic buildings. Even when sitting there, you may need to dig deeper into your wallet. Also watch out for love locks! As seductive as they are, they are mostly forbidden in Ven-ice.
Dolce Vita and dream holidays are always happy – but please with decency
There is a reason why people crack down on violations in this city. Every year there are considerably more visitors than residents. In order to contain the critical consequences of tourism, there is probably nothing else left to do. Ven-ice fans shouldn't forget one thing: La Serenissima is not only a tourist hotspot with a picturesque backdrop, many people also live there. Visitors who know and respect this are the most likely to express their appreciation. After all, residents have made the beautiful city what it is for centuries. If you think about it, you can especially enjoy the Dolce Vita in Veneto!