Porto is a very fascinating city, the second largest city next to Lisbon in Por.tugal. The coastal city with the authentic harbor atmosphere has a picturesque old town and a large number of historical buildings. It has been a UNESCO World Heritage Site since 1996.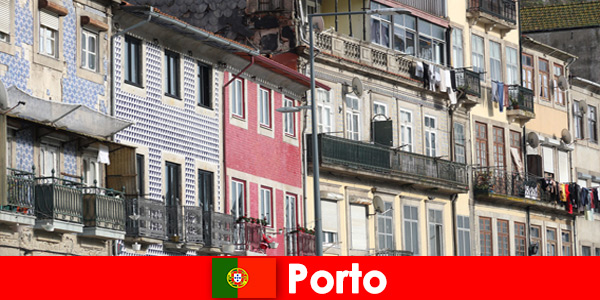 Young visitors love postage
Porto is attracting more and more young visitors and is now a popular travel destination for families too. Historical monuments and all major tourist attractions can be found in one compact area. Young visitors usually stay in this area of ​​the city and are also looking for cheap accommodation there. The number of visitors is currently increasing faster than available accommodation. This means that accommodations are booked out very early in the season.
In summer temperatures of more than 30 ° C are not uncommon!
On the Atlantic coast, a cool breeze often provides refreshment. In addition to summer clothing, a windbreaker is definitely recommended. Winter is fairly mild with daytime temperatures of 12 ° C, but it rains a lot. Rainproof clothing should be taken with you for a vacation in the off-season. The best time to travel to this baroque city for young visitors is the rather warm spring and autumn. In these transitional seasons, daytime temperatures of around 20 ° C and little rainfall await tourists – perfect conditions to be able to experience this city as well as Lisbon to the full.
The most popular areas with accommodation for vacation in Porto are:
a.) Ribeira, this is the district of the city with a very good atmosphere. There are old houses in narrow streets, numerous restaurants and bars and the view of the Duero. Most of the time tourists spend their evenings in the area.
b.) Vitória – The former commercial center of Porto around the university has lively shopping streets and attracts young visitors. Here you will find the best night life.
c.) Se – This is the oldest part of the city, which was originally located in the city wall and was named after a cathedral. Se is small. All tourist attractions are therefore close by.
d.) Baixa – The beautiful center of Porto. Much of it was rebuilt in the 20th century. Classic hotels are here in Baixa. A lot of cheap accommodation can be found in the south of this district in particular.
e.) Miragaia – There are many very charming holiday rooms in the medieval labyrinth consisting of charming alleys. Especially visitors who are not classic tourists will find cheap accommodation here.
f.) Vila Nova de Gaia – Known for large port wine cellars with the unique atmosphere. If you are looking for cheap accommodation here, you will have to take a long walk to the city center.
g.) Southern Massarelos – It is an alternative for those who have not found accommodation in the city and is located around the Palácio de Cristal a park.
h.) Boavista and Avenida da Boavista with numerous international hotel chains with 4 and 5 star hotels. Not a very cheap area for guests with high demands.
i.) Last but not least, Bonfim – The up-and-coming district with cheap accommodation is particularly popular with young visitors and students. It's not a typical tourist atmosphere, but rather that of the young artist scene. For many visitors, Bonfirm is too far out. However, anyone who wants to see more than just sights and get to know more is sure to be very enthusiastic.