The second largest city in Portugal attracts visitors because of its beauty and charm. Porto is an old city with many originally typical cafes and restaurants. It is located in the northern part of Portugal and has a lot to offer culturally apart from port wine. As one of the most popular metropolises in Europe, visitors will not only find the usual shops here, but also special items of clothing from world-famous designers.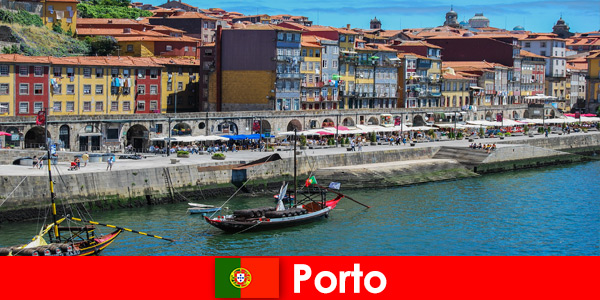 A beautiful old town
Anyone taking a city trip to this great city should plan more than just one day. Almost untouched by wars, Porto's old town is a UNESCO World Heritage Site. The best way to explore the old town is on foot. So tourists can explore even the smallest alley. The little secret streets and squares cannot be found in any travel guide. Most of the houses are built in the baroque style and are very well preserved. The Arab influence has made the small old town houses colorful. The small, charming bars and local restaurants invite guests to linger. No one should miss a trip through the city in the historic railway.
Porto's sights
Sights that no guest should miss include the Porto Cathedral, the famous Porto Sao Bento train station and the unique bell tower, which is the symbol of the city. From here the view of the Duoro River is fascinating. Everyone should run across the bridge. The Stock Exchange Palace, also called Palacio da Bolsa, is worth a visit. The Bolsa was built in the second half of the 19th century. The halls of the Bolsa shine in splendid gold, the Hall of Nations and the Arab Hall are particularly noteworthy.
Restaurants and Bars
The Portuguese cuisine is hearty and extremely tasty. In order to get an insight into the cuisine and the food of Portugal, a visit to the market hall, Mercado do Balhao is worthwhile. There you can get the best Portuguese sweets and very good wine. Wine lovers can visit the wine cellars along the Duoro River and spend an afternoon there tasting wine. Guests can satisfy the small appetite with delicious fran-cesinhas, sandwiches with cheese gratin. You can get them in the many charming bars and local restaurants.
Shopping and strolling
There can be no city trip without shopping. The city has a large famous shopping center, Via Catarina Shopping Center. There those who are hungry for shopping will always find the latest fashions from well-known fashion czars. Those who prefer the old town will find small, fashionable boutiques on Rue de Catarins. It's worth a visit. Visitors who have discovered Portugal as a holiday destination should not miss this wonderful city.