Lisbon is a city full of excitement and one of the hippest European cities in terms of nightlife. Young party tourists in particular can expect an exciting time here with fun disco evenings, both in the city and on the beach. Nightlife usually starts very late and ends in the late morning hours. At night, many party enthusiasts stagger through the narrow streets of the city and enjoy the cozy and civil atmosphere of Lisbon.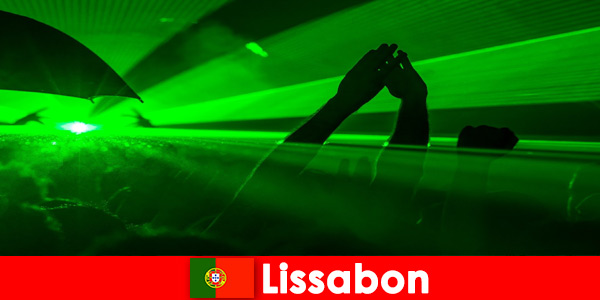 K Urban Beach Club
The disco evenings near the water, which offer a beautiful view, are particularly exciting. This includes the popular K Urban Beach Club, also known as the city beach. It is located on the Tagus River and presents itself in its full party mood, which includes three club rooms. Equipped with renowned DJs who perform internationally and always put you in a good mood. The large number of halls ensures a balanced range of music, from jazz to the latest charts. This elite club also offers a spectacular outdoor area with a wonderful swimming pool. In combination with the party and laser lights and the colorful surroundings, a friendly environment is created with enjoyable cocktails and meat from the grill. Accordingly, special attention to the dress code applies here and elegant clothing is required.
Beach Oeiras Club
If you want to party on Lisbon's natural beach, you have to go to the Beach Oeiras Club. It is located on the sandy Torre sandy beach and offers a wonderful ambience in a noble style. Here you can enjoy a local drink with a magnificent view. In addition, a live band plays music and pampers you in a ni-ce atmosphere. In addition, the outdoor area offers a disco area with spotlights and party music. On site, the Dj provides fun entertainment and pleasant music. The pool, which is located in the middle of the dance floor and delights young party tourists, is attractive. If the music is a bit too loud for you, you can always switch to the sandy ground and continue partying.
Lux Frágil
One of the most popular clubs in Portugal, the Lux Frágil, is also located in the capital and is popular with young people for disco evenings. Many young party enthusiasts meet here and celebrate Portuguese music, among other things. But house and electro are also played by international DJs. The club is also located on the open river in Lisbon and is the party center of Lisbon. The wide range of alcohol and cocktails makes the location and the bar on the roof terrace so interesting. A view of the wonderful bridge Ponte Vasco da Gama can be enjoyed.
Conclusion
Portugal, with its capital, offers young guests a large selection of discos on the beach or the Tagus River. Late in the evening, Lisbon provides popular disco evenings and does not let party enthusiasts fidget for long.