Porto (Portugal) is a vibrant, fascinating and affordable destination for those on a budget and backpackers. The city delights tourists with an exciting, varied nightlife, interesting sights and an eventful history.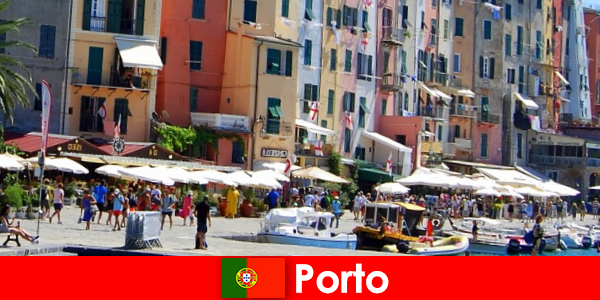 Porto – a perfect travel destination for young and old
The city combines classic and modern in a particularly harmonious way. It is therefore a popular destination for city trips, holidaymakers on a budget and for backpackers. The destination has inexpensive restaurants and excellent hostels. Backpackers meet many like-minded people in the city. The nightlife in this vibrant, bustling city is liberal, lively and exciting.
This metropolis is recommended to families with children as an inexpensive, family-friendly holiday destination. The locals are very helpful with families. Children are always welcome guests in all tourist attractions, restaurants and hotels. An abundance of attractions and entertainment options guarantee that no family member will be bored. Affordable holiday activities include trips on a cable car, boat trips and trips on the local tram. The city is recommended as a holiday destination because it is cheap to travel to and because there are beautiful beaches in the vicinity of the metropolis.
Backpacking in Portugal
The travel destination can be explored in different ways by bus, bike, motorcycle, on horseback or on foot. Backpackers are usually flexible and can take enough time to get to know the Portuguese better. Backpackers exploring the country on their own will discover fascinating landscapes, coastlines, and more.
An impressive, free experience for tourists on a budget is, for example, watching a unique sunset over the sea. Tourists do not have to do without the latest technology at their destination. ATMs and free WiFi hotspots can be found everywhere.
The right goal for every budget
The travel destination is also famous for its wine and good food. The cost of food. Accommodation and other living expenses are cheap. On average, backpackers should calculate an amount from 30 to 50 euros per day. Accommodation is available from overnight stays on campsites up to 6-star hotels. The costs in the different stays vary depending on the season. Especially in summer it is necessary to find cheap, comfortable accommodation in good time.
Inexpensive accommodations are quartos particulares (accommodations including family members). An alternative that is also popular with the Portuguese are pensions. They offer holidaymakers more ambience and lower prices than hotels. Other inexpensive places to stay are beds in a dormitory in a youth hostel or in a tent on a campsite.
Food for little money in Porto
A regional dish in a small restaurant costs 5 euros. 0.5 liters of beer are available for 1.50 euros. A cappuccino costs around 1 euro.
The cheapest way of getting around Porto and across the country for vacationers on a budget is the bus from A to B. A bus ticket costs only 1 euro within Porto. A monthly pass costs 35 euros.
Traveling by train in Portugal is an adventure. Nevertheless, it is worth exploring the holiday destination on a historic train. Tickets do not have to be reserved in advance.
If you want to take a taxi, you pay a flat rate of 3.50 euros for the journey and 50 euro cents per kilometer driven. For anyone who is on vacation in Porto in the summer, it is not worth carrying large items of luggage with you because it is usually warm and dry. This saves luggage and travel costs as well as the cost of one or the other taxi ride at the destination.