Antalya is one of the most beautiful and popular vacation spots in Turkey. Between white houses and a view of the sea, holidaymakers will find lively markets where you can browse for local specialties or souvenirs. Tourists can retire to sunbathe on the beach. In Turkey, it is made easy for holidaymakers to leave everyday stress behind.
Beaches in Antalya
The city of Antalya is located in the southern part of Turkey. It is particularly preferred as a vacation spot by sun worshipers and bathing enthusiasts. In the months of May to October, the Mediterranean climate means that there are many hours of sunshine available. Sometimes it is also possible to enjoy one or the other sunny day in April to November. The resort attracts with a variety of beaches that tourists from all over Europe like to visit. In the western part of Antalaya there is a 7 km long beach. This is not a classic sandy beach, but a pebble beach. From here you can enjoy the rock walls and the fantastic view of the clean sea water in the northeast. The prices on site for ice cream or café are relatively cheap compared to other vacation spots in Antalya. A street and a pro-menade run parallel to the beach and invite you to stroll. There are sufficient parking spaces on the street. On the pro-menade it is also possible to borrow a beach lounger or a parasol.
Beach clubs in the popular holiday resort
Families with children feel particularly at home at Konyaalti Beach. The beach clubs, restaurants, dance floors and terraces ensure a good mood for young and old in summer. Children's playgrounds are available for children. Various providers of water sports provide additional fun. From jet skiing, parasailing to banana boats, there is plenty of variety. A diving school can also be visited to learn how to explore the depths of the sea.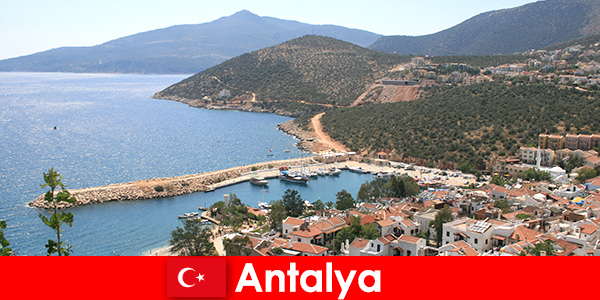 Beaches in the east of Antalya
Families are offered a lot not only on Konyaalti but also on Lara Beach. This beach is located in the eastern part of Antalya. It consists of light brown sand, which is provided with fine pebbles. Kundu and Örnekköy Beach are nearby. Lara Beach is popular with families and older tourists. The offer on site is very diverse. All guests are spoiled with international delicacies in the adjacent restaurants. What is special about this stretch of coast is the interesting lounging and seating on the beach. You can not only relax on the classic beach loungers, but also hammocks, beach chairs, small pavilions or sofas invite you to relax. If you want, you can also rent a beach bed on this beach. Sports activities are possible on the beach. Banana carriers, jet skis, wind or kite surfing are available for this. Bouncy castles are available for children on the playground. The beach pro-menade provides plenty of excitement, action and a good mood. There is an electric scooter and a kart track on site, which are popular attractions. A campsite is available in summer. You can grill and celebrate here. It is not without reason that this beach in Antalya is also called sand land. This is mainly due to the fact that new works of art are constantly being made from sand. The sand formations captivate every visitor.
A relaxing beach vacation
Many hotels and guest houses are located near the beach in Turkey. Thus, holidaymakers do not have to walk through the heat too long for their bathing fun. This also simplifies the transport of air mattresses or pool noodles. The sea water is considered very clean in Antalya. The family atmosphere, clean beaches and the diverse culinary offer ensure that all beaches of Antalya are well attended every year. For many Europeans, Turkey is still considered a dream vacation country.