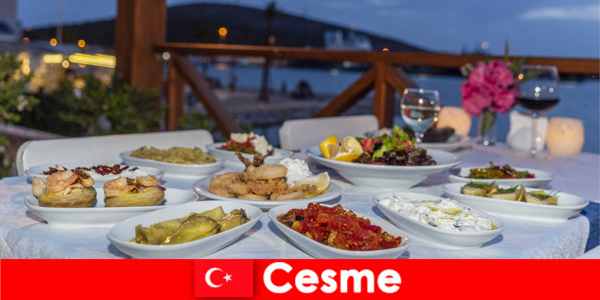 Cesme is a resort town on the Aegean coast of Türkiye. It attracts tourists with its warm climate, crystal clear sea and beautiful beaches. However, one of the main characteristics of Cesme in terms of tourism is its rich and delicious cuisine. Harnessing the richness of the Aegean, Cesme's cuisine includes many local dishes and desserts. The most famous dishes of Cesme cuisine include olive oil dishes, seafood, herbs and meat stew. Olive oil dishes are dishes where vegetables are usually cooked with olive oil and spices. Artichokes with olive oil, stuffed leaves with olive oil, zucchini with olive oil and black-eyed beans with olive oil are the most delicious olive oil dishes.
A culinary journey with fish, herbs and wheat stew
Seafood is one of the essential ingredients of Cesme's cuisine. Many species of fish such as sea bass, sea bream, horse mackerel and red mullet are fresh and delicious. In addition, stuffed mussels, octopus salad, calamari and calamari dishes are among the standout seafood dishes of Cesme cuisine. Herbs also play an important role in the kitchen. Many different herbs are used in salads and dishes, such as: B. mixed herbs, purslane, mallow, radicchio and nettle. Combining these herbs and salads with various spices and olive oil creates rich and delicious scents. Keskek is one of Cesme's traditional dishes. Keske, a wheat stew made by cooking cornmeal and wheat together, is usually served on special occasions such as weddings and holidays. Among the local delicacies, Keskek, which is very laborious to produce, has a special place.
Mediterranean delicacies refine this cuisine
The Cesme cuisine was also influenced by many different cultures. The cultures of the Turks, Greeks and Mediterranean countries that settled in the region during the Ottoman period were also reflected in the cuisine. Therefore, traces of different cultures can be seen in it. The restaurants serve international cuisine as well as local dishes. However, the majority of tourists who come to Cesme come here to taste local delicacies. Fresh vegetables, herbs and seafood from the local markets are the main ingredients of the restaurant's meals. Summer is the best time to taste the delicious dishes of the. Many local festivals and events take place during this time. In particular, the Olive Oil and Herb Festival is one of the most important events in the region. Various dishes, desserts and drinks made from olive oil and herbs are presented during the festival.
Delicious desserts should not be missing from the table
The delicious dishes and special desserts are also known in other parts of Turkey. Some of the region's famous restaurants are among Turkey's best restaurants. In addition, local products are also popular in other parts of Turkey. As a result, Cesme cuisine is one of Turkey's richest and most delicious cuisines. Olive oil dishes, seafood, herbs and keskek are among the most popular dishes. Their desserts are also very tasty. These delicious dishes, which must be tasted by the tourists who come to the region, make for an unforgettable vacation and indulgence experience.