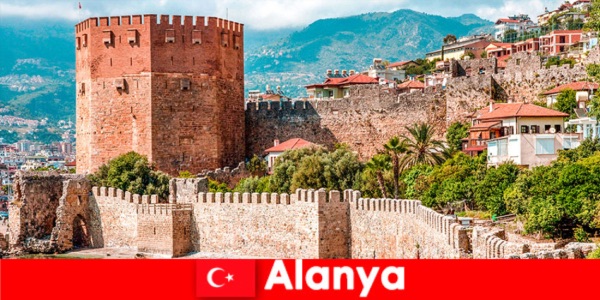 Located on the southern coast of Turkey, Alanya is a very popular tourist destination that attracts tourists for its natural beauties, historical structures, tourist attractions and sea. The rich tourism potential of Alanya attracts millions of tourists every year.
Natural beauties and historical structures
Alanya is known for its natural beauties. Cleopatra Beach in the district looks like paradise with its clean sea and fine sand. Damlataş Cave in the district is also one of the tourist spots of Alanya. The cave, which has a history of 15,000 years, attracts thousands of tourists. Also, Alanya Castle, which with its height and magnificent view is a must-visit place for vacationers. The historical structure of Alanya is also very rich. The Alanya Castle in the district is a Seljuk-era castle and attracts tourists with its historical structure and magnificent views. The local Kızılkule, Red Tower and Alanya Archeology Museum also reflect their historical riches.
Tourist places and a ni-ce experience await tourists in Türkiye
Alanya is also known for its tourist spots. Places like Damlataş Cave, Alanya Castle and Cleopatra Beach are among the popular spots of the tourists. Besides, Alanya Aquarium, Crocodile Park and Water Parks in Alanya are also among the interesting places for tourists. In summary, Alanya is a popular holiday destination for tourists due to its natural beauties, historical structures, tourist spots and the sea. Alanya is a major tourism destination, attracting millions of tourists every year. Visitors to Alanya can discover its natural beauties, visit historical places and enjoy their vacation.