As a very special trip, if you want to get to know the most beautiful cities in Germany and their attractions, we recommend the Hellabrunn Zoo in Munich, one of the most original zo adventure parks in Europe, which was founded as the world's first geo-zoo in 1911. The Hellabrunn Zoo is so special for you as a visitor because you can see the animals in open enclosures, which are faithfully modeled on their natural habitats.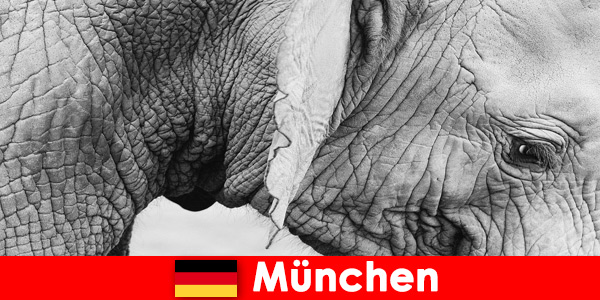 Unobstructed view of the animal world without fences and bars
Accessibility has been set in the entire zoo, both for visitors and for the animals. In the most original zoo it is therefore possible to observe and study the animals as if they were in the wild. There was plenty of space, because the landscaped areas are on an area of ​​around 36 hectares. By the way: You can take great photos of the animals because you don't have to take photos through fences and bars, but enjoy the absolutely unobstructed view of the animals.
Rich biodiversity and natural living conditions for the animals
The zoo is home to around 7700 vertebrates and a total of 345 animal species. The biodiversity is rich, but not excessive, because the aim of the zoo is not to focus on biodiversity, but on the well-being of the animals. For example, great emphasis is placed on a natural posture. Several animal species that can peacefully coexist and share a habitat are housed together in an important one, as it is in the wild. Moats and glass panes are mainly used to separate the habitats. You can even enter some enclosures unhindered, watch the animals up close and even touch some.
A special trip leads to the zoo's landmark
As a visitor, you will find a very special landmark in the most original zoo in Germany. A landmark that the zoo in Munich is particularly proud of and of historical value. We are talking about the elephant house, which was designed in the Byzantine style as early as 1914. The special feature: The elephant house had the first self-supporting concrete glass dome as a roof.
The zoo is a real experience for bird lovers
In the most original zoo in Germany you get to see a bird aviary that is more than impressive. A wide variety of bird species can be admired on around 5000 square meters. Including successful new breeds of bird species that were considered extinct. Directly next to the bird aviary, you can visit Dracula bats in the Villa and study their behavior and way of life by observing the light-shy animals that live in the dark with an infrared camera.