Fethiye, a port city in southwest Turkey, is located directly on the Turkish Riviera. The beautiful blue sea and the many sights invite you to tours on the sea and on land.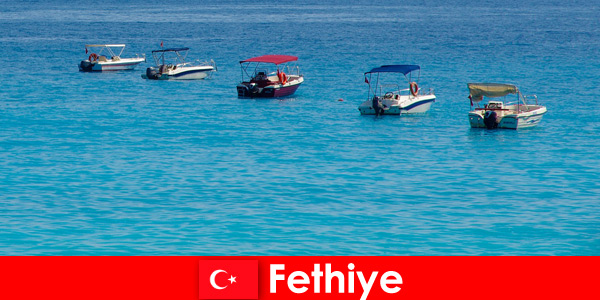 Story:
As early as the 8th century, the city was known as Telmessos, since 1424 it was called Megri, and since 1914 it has been given its current name. The age of the city explains why tourists like to visit this city. The old Turkish city center was unfortunately destroyed in an earthquake in 1957. Fortunately, a well-preserved old hammam and a mosque from the 18th century have been preserved. The rock tombs are the main attraction and visitors interested in history are happy to explore them.
Position:
The old city lies between the Gulf of Fethiye and at the foot of the Mendos Dagi. Long hikes in the mountainous Taurus can be undertaken from here as a location for a trip. From there the vacationer always has a delightful view of the Turkish Aegean Sea. The 3024 meter high Uyluk Tepe is about 45 km away. The city's natural harbor is a popular starting point for a blue voyage on the sea. Since the port is protected by a small chain of islands, it is often chosen by holidaymakers as a starting point for day trips.
Beaches:
The beautiful white beaches are ideal for a beach holiday. Since the beaches are wide and often wide, bathing holidaymakers will always find enough space to spend a pleasant and relaxing time there. White beaches promise a relaxing time by the sea. Since the beaches are protected by the offshore islands, the calm sea invites you to swim. In summer the water has a very pleasant temperature to refresh yourself in. Since summer temperatures in Turkey are around 30 ° C, staying in the sea is a welcome relaxation.
Boot:
A vacation on the water is a real experience here. Carried by the gentle waves, you can explore the coast from the sea. But you can also take a blue voyage to the nearby islands and enjoy white beaches there. The lagoon, located in the south, or the butterfly valley, a nature reserve worth seeing, invite you to take a trip on the water.
The longing for a visit to this region is understandable. There are many attractive destinations in and around Fethiye, both on the water and on land, to be approached. Perhaps one vacation is not enough to discover everything you want to get to know.
The hospitable character of the residents makes a vacation stay a particularly pleasant experience for every tourist. With good weather, a beautiful beach and delicious food, relaxation will certainly take place very quickly. Many tourists who have visited this old city and the white beaches will want to come back again and again to find rest and tranquility right there.