Uludag is the largest winter sports center in Turkey. This area is equipped with 8 drag lifts, 5 chair lifts and a gondola. In the period from mid-December to around the first half of April, there is enough snow in this region for skiing. These are the only high mountains in the Marmara area. In 1961 these high mountains were declared a national park. The naming applies to both the mountain range in the Marmara area and the mountain village there. There are about 27 hotels and pensions in this mountain village and this one is located at an altitude of about 1800 meters.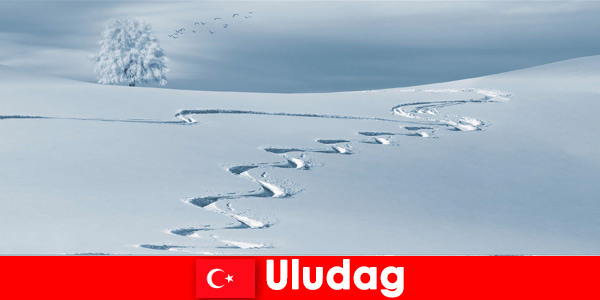 Ski slopes for everyone
The ski area has 20 ski slopes at an altitude of approximately 2543 meters. The length of these slopes is approximately 500 to 2000 meters. Here on the slopes, also with regard to the degrees of difficulty, reference is made to the areas of beginners, advanced and "very advanced" and thus this ski area offers something for a holiday trip as well as an excursion for the whole family. If you want to experience something extra and adventurous on a holiday trip, you can also use one of the 8 trekking routes in the midst of nature in a wonderful environment.
The travel time
The season in this area starts in mid-December and lasts until late March / early April. However, the main occupancy is between the end of December and January. This area is also a popular destination for many people to celebrate the New Year with the family and to spend the winter holidays there.
The overnight accommodations
Accommodation at this ski resort is available in 2 different zones. In the first zone you will find the established and old hotels. In the second zone there are modern facilities that were only recently built. The cheap offers are usually in the first zone. The somewhat more demanding and expensive offers, on the other hand, are in the second zone. There are also hotels with halal-friendly vacation options. For example, some hotels offer pools only for women in their wellness centers. In the higher quality hotels, the rooms are comfortably furnished with stylish furniture in a quiet environment. Some hotels also offer some advantages for beginners in skiing. In some cases there is a ski room where customers who want to try skiing for the first time can rent clothing and ski equipment. Professional ski instructors employed by the hotels also offer ski and snowboard courses for beginners.
Even more service in hotels
The higher quality hotels are then also equipped with a wellness center. There are separate areas for women and men. A Turkish bath, a steam bath, a sauna, a fitness room and a whirlpool are available to guests there. There is also an indoor pool, which is only open to women at certain times of the day.