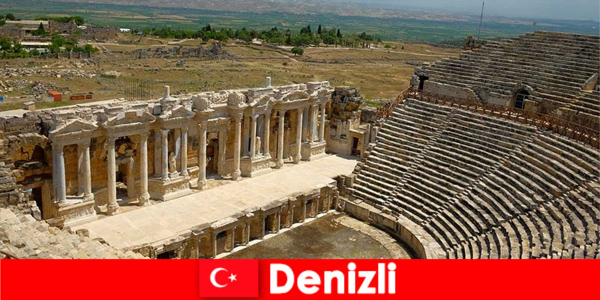 Denizli is a historically and culturally rich region in western Turkey. The ruins from ancient times are an important part of the region's historical and cultural heritage. The historical and cultural heritage of Denizli is considered wealth from ancient cities. The historical and cultural heritage of Denizli is complemented by museums and other historical buildings. Denizli Archeology Museum displays artifacts from ancient cities of the region, while Denizli Ulu Mosque is an Ottoman mosque and one of the region's important religious buildings. The historical and cultural heritage of Denizli is an important part of tourism in the region. In addition to the ancient cities, the natural beauties and thermal springs of the region are also important tourist destinations. The historical and cultural heritage of Denizli increases visitors' interest in the region and contributes positively to tourism.
Sights in Türkiye – Ancient cities and their stories
Hierapolis is one of the most famous ancient cities of Denizli. She was founded in the 2nd century B.C. Founded in 300 BC and became an important center during Roman times. The most important buildings in the region are a large theatre, a necropolis, a market, thermal baths and St. Philip's Basilica. Laodicea is another ancient city that was founded in the 1st century AD and was an important trading post during Roman times. Laodicea housed many important buildings such as a large stadium, baths, churches and a theatre. The ancient city has been damaged by natural disasters and human intervention over the years. Colossae is another ancient city founded in the 12th century BC. was founded and was a major trading center during antiquity. Colossae is one of the ancient cities that has left the least remains. However, discoveries in the region have proved the existence of the ancient city.
Conclusion for the most beautiful destinations in Denizli
In summary, Denizli's historical and cultural heritage is a richness from ancient cities. Hierapolis, Laodikeia and Colossae are among the main tourist destinations of the region. These ancient cities offer visitors the opportunity to embark on a journey into the depths of history.