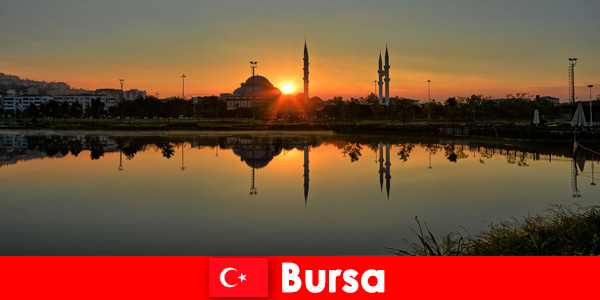 The city of Bursa is located on the Sea of ​​Marmara. The city is considered one of the most livable in Türkiye, but the city is less known among tourists. There are many sights and sights that you don't want to miss if you want to explore the world. Here are some tips and things worth knowing about the beautiful city, which is also known as the "green city".
The green city with a lot of history and a lot of faith
The naming of the city on the Sea of ​​Marmara "green city" has two reasons. On the one hand it is the landscape, because the city is characterized by mountains, which are also perfect for hiking in summer, but also for skiing when the snow is passable. In addition, in spring the city shines in the lush green that the fields carry. The green mosque and the green mausoleum of the city are also important for the naming. In general, the city is strongly influenced by the then Ottoman Empire, which is why one of the top tips for tourists is the "Osman Gazi and Orhan Gazi Türbesi". This is the tomb of the founder of the Ottoman Empire and a must-visit when spending your vacation in the city.