Toronto in Canada in the province of Ontario is a young, interesting and fascinating multicultural metropolis and an exciting place for the traveler in search of the best food in the world. The diverse gastronomy creates countless different dishes in a small space. Traditional national dishes alongside modern reinterpretations, everything tastes interesting and delicious.
Many restaurants source their regional ingredients directly from the area. The province of Ontario offers a variety of wonderful products. Experienced restaurateurs have a long-standing relationship with their suppliers and know exactly when the salad is most tender or when the fish tastes best. Some chefs grow their own herbs and edible flowers.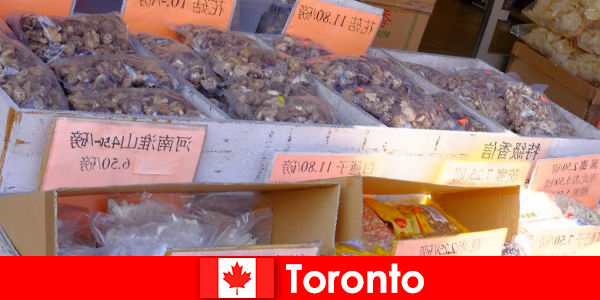 Old recipes rediscovered
Restaurateurs from all over the world meet here, and the city offers space for experimentation. Garum, the standard seasoning sauce in ancient Roman cuisine, is made by fermentation specialists themselves – from chickpeas, roasted rye grains and the koji mold that grows on them. Or Kombucha: a slightly alcoholic drink that is traditionally made by fermenting sweet tea. Maple syrup from Canada is used in the experimental ambience.
Delicacies from all over the world
The region is incredibly diverse. Meat is grilled over charcoal in steakhouses and melts in the mouth – tender, juicy and delicious. Prawns are served with lime and garlic. The food looks amazing and is served spectacularly. Don't miss fish. Lobster in Canada is sweet, juicy and marinated with the unique jerk paste. Try a double down sandwich with a grilled minced meat bun or a burger with pineapple and oyster mayonnaise. Don't miss the wonderful Sriracha sauce made from chilli peppers, vinegar, garlic, sugar and salt. Nothing can be compared with these extraordinary flavor combinations. Try wonderfully tender pork belly with a crispy fried crust or kinilaw with tuna, a national dish. The fish salad is served on crab chips. Or try the wonderful Chicken Adobo, spicy and tender – a perfect bite. Another dish that is enjoying great popularity is jerk chicken. The chicken is marinated in a zesty way and slowly smoked for several days. The meat is super tender, the long preparation gives the meat its unique smoky taste. Another classic dish is ackee and saltfish. The beautiful color and creamy texture of the cod go well with the vegetables. Whether you prefer to dine in a cozy or pulsating atmosphere – delicious and filling dishes are served everywhere.
Unique dishes in a creative ambience
You will find wonderful vegan restaurants in this melting pot of delights. Chickpea omelets, homemade French fries … Classic dishes are interpreted as vegan. Travelers discover the Croque Madame here with roasted rye toast and homemade vegan cheese. The diverse gastronomy is constantly creating new, wonderful creations. Here dishes are created in great, new combinations with ingredients from a wide variety of cultures: Salad wraps with quinoa, roasted Brussels sprouts and tofu sprinkled with sesame, roasted nori and peanuts – a real taste explosion on the tongue.
Toronto will exceed your expectations in every way. Ingredients from all over the world are processed here in a new and exciting way. Of course, food trucks from all corners of the world also populate the city. Roasted corn on the cob seasoned with pepper, onions, garlic, ginger or braised oxtail – you will see: once you start eating, it becomes difficult to stop.