Los Angeles is one of the most popular vacation destinations in the United States. In addition to sun, sea and beach, numerous Hollywood stars and film studios are among the highlights of this city. The city of the United States is a highlight, especially for international travelers.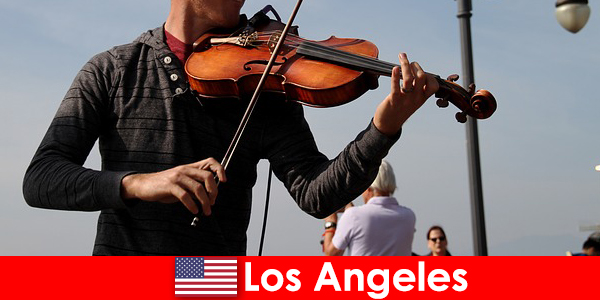 Los Angeles and Co.
LA is best known for numerous films. Hollywood is firmly anchored in the history of the city. At Universal Studios Hollywood you can breathe fresh film air and at the same time marvel at and enjoy this remarkable attraction. Many shows, a cinema and roller coasters promise a lot of action. Buying a VIP ticket allows you to watch filming and see a movie before it hits the cinema. Most of the numerous superstars live in Beverly Hills. Luxury villas and expensive cars are lined up in this rich part of LA. Everything looks neat and luxurious. The Rodeo Drive shopping street is one of the most expensive streets in the world. Only people with a large bank account can shop here. The most expensive luxury shops in the world are located here over a length of three kilometers. Even if you don't want to buy anything here, with a bit of luck you can watch one of the numerous stars shopping here. From Mulholland Drive, you can see these many expensive places from above. A grandiose view over the whole city is offered to you here. In addition, one or the other film has already been shot on this street. The world-famous Hollywood Sign is even higher up. Letters 15 meters high look majestically down on the city lights. This view is not only mandatory from below. A view of the City of Dreams from above is a moment that you will not soon forget.
The Hollywood Walk of Fame is probably the most famous sidewalk in the world. Artists, actors, singers, directors and even cartoon characters immortalize more than 2,500 stars here. If you are ever in LA this walk is a definite must.
Many other major filmmakers are based in LA. In addition to a large concert hall, you can also visit a large amusement park.
The beach
Of course, Los Angeles has more to offer to travelers than Hollywood. The beaches are also a must in the city of the United States. All classes of society are represented on Veni-ce Beach. From poor to rich, very different people meet here in this beautiful place. You can have a good time here between palm trees and beautiful people.
A huge road winds its way between the beach and shops. During the day, everything is provided here, while live music is played at night. Malibu is also typical of the Californian lifestyle. The beach of Malibu invites you to linger between the palm trees. If you prefer to have some peace and quiet, Long Beach is ideal. This is a few minutes drive from LA, but also less visited. Here you can lie down on the sand and get a tan.
The city center
Downtown Los Angeles also has a lot to offer. In the financial district, skyscrapers shape the cityscape. Shops, restaurants and bars bustle together in the city center. You can find tons of delicious and fresh food in the Grand Central Market. Here you can experience American culture up close. The nightlife in LA is also known worldwide. You can find a bar or club in almost every neighborhood. Here's something for every taste. The city is also full of delicious restaurants, a dime a dozen. If you want to rest after all that exploring, the Grand Park offers you peace and quiet. The population likes to spend their lunch break here. And tourists can also end the day here in the evening. The Cathedral of Our Lady of the Angeles is also located here.