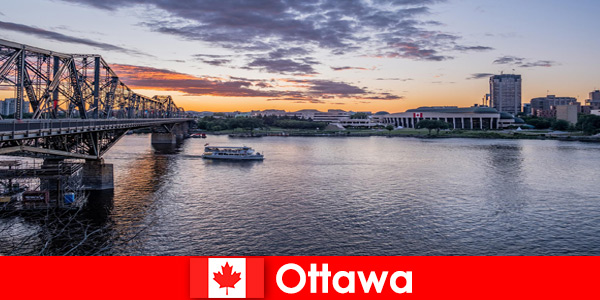 The best time to travel by tour bus is from May to October when the temperatures are mild. In this case, the maximum value is typically 24-26 °C. However, rain can also be expected in summer. The city has a museum and arts scene, and Ottawa residents enjoy a high quality of life. Plan at least 1 week for your stay. The city also hosts world-class theatre, dance and concert performances at Canada's premier arts and cultural center, the National Center for the Arts. The Casino du Lac-Leamy offers a wide range of entertainment and a constantly changing show.
Thanks to the bilingual guide, tourists will discover and get to know the city better
Although the city is the capital of Canada, the city has a rather quiet vibe. The city is bilingual in English and French and this is present everywhere. The city has many parks, beautiful town houses, the impressive Parliament building and the 92 m high Peace Tower. The Museum of Civilizations, for example, which vividly depicts the settlement history of the country, is also worth a visit with the tour bus. Downtown is a great place to explore on foot. After exploring, it's worth visiting Major's Hill Park and staying for a while. It is on the Rideau Canal.