Vancouver on the west coast of Canada is worth a trip at any time of the year. Foreign visitors can get to know the local corners here at any time of the year and at any time of the day. Thanks to the city guides who take tourists to the "secret places", but also to the well-known sights that this city has to offer and for which it is known, among other things, and where more than 2.4 million people live.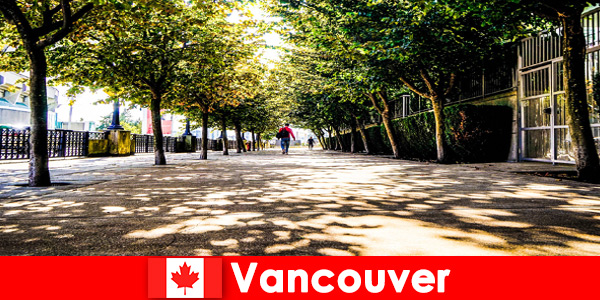 Well-known and well-known buildings
The city, Vancouver is a very young city. In 1986 this Canadian city celebrated its 100th anniversary. Buildings from the first decades of the 20th century and thus from a time when Vancouver was not that old can be found in many local corners to which city guides like to take foreign tourists. These include the former courthouse that now houses the Art Gallery, located on Homby Street. Another destination for many tourists is the terracotta-clad Dominion Building, which was the tallest building in the British Empire from 1908 to 1910. The town's landmark, the Marine Building erected in 1930, is, of course, one of the local corners to which city guides also take foreign holidaymakers. One of the most beautiful corners of the city is Canada Place, where the landing stages of the large cruise ships are. From here the ships start on excursions to Alaska. In addition, numerous festivals take place at this location.
Go shopping in the alleys of the city
Vancouver in Canada is also a shoppers paradise. There are numerous shopping streets that are easy to find. In addition, there are markets that make shopping in this city a real experience. There are shopping opportunities for both large and small budgets. One of the most famous shopping streets is Robson Street. There are shops for every taste – from bookstores to the finest boutiques to The Bay department store. And then there are the markets, like Lonsdale Quay Market. Gastown, the old town, is one of the "corners" you have to visit in this city. This stretches along Water Street and is considered the center of the city. You can not only shop here, but also go out in the evening. This is also where the Steam Clock is located on the corner of Cambie Street, which sounds every fifteen minutes. It is a steam powered clock that was the first of its kind.
Culinary highlights
The city of Vancouver also has some culinary delights to offer. The gastronomic scene in this city is correspondingly diverse and is not called "The Gateway to Asia" for nothing because of its location on the Pacific. This also applies from a culinary point of view. But the city is also a real melting pot for other cultures and kitchens. There are numerous international restaurants in the city. The city is also home to numerous microbreweries.