Vancouver is one of the most famous cities in the world. The city in Canada is already very diverse due to its location between the ocean and the mountains of the Rocky Mountains. Not only city tourists get their money's worth there, sports tourists also get a lot on offer there. Whether in summer or winter or in spring or autumn, the Canadian city is a magnet for tourists in all seasons and it is not for nothing that it is a popular travel destination for those who like to spend their holidays actively.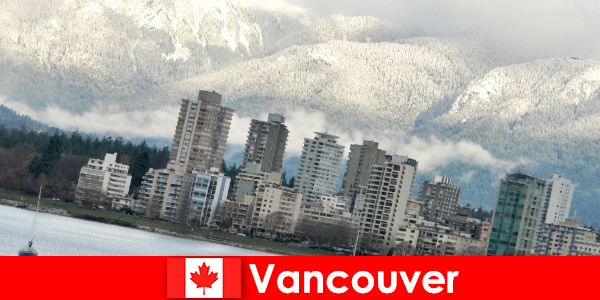 Active through the landscape in summer
Should you go to the mountains in summer or should you go to the sea? Many travelers ask themselves this question and finding an answer is sometimes not that easy. Then why not just get both, especially as a sports tourist? That is definitely possible in Vancouver. While the ocean shines in the west, the mountains on the east side are green, at least in summer. For sporty and active vacationers, the Canadian metropolis is therefore the ideal travel destination in summer. There is a lot to do and experience. Hikes in the Rocky Mountains, which border Vanouver to the east, are of course particularly popular. There are numerous beautiful trails that lead through the Canadian forests and up into the mountains. But mountain bikers are also in very good hands here. After all, the mountains offer many routes that offer a lot for beginners as well as advanced mountain bikers and at the same time lead through special landscapes. There are also many beautiful via ferratas in the mountains, so that climbers can take great tours through the rock faces on their journey. If the summer is too warm, a canoe tour is a good idea. Or how about rafting? Sport, variety and the cool water of the clean rivers can be experienced as well as relaxed sailing tours across the ocean. Whether water sports, cycling, hiking, climbing or other sports, everything is possible on a holiday in this beautiful spot on earth.
This city also offers a lot in winter
Canada is known for winter sports. After all, the famous sport of ice hockey, for example, comes from there and ice hockey is therefore also the number one national sport in the country. But the country is of course also known for the Olympic Winter Games, not only for the many Canadian athletes, but also as a venue. As recently as 2010, Vancouver hosted the Olympic Games and has therefore also distinguished itself as a host. There is a lot to experience for sports tourists not only in summer, but also in winter. The mountains offer many special and well-known ski areas in which it is not only possible to enjoy descents on skis. There are also great slopes there for snowboarders, all of which provide an adrenaline rush. In addition, many trails lead through the Canadian forests and past a wonderful landscape. Cross-country skiing is also a popular sport in the northern country that is always open to tourists. In the metropolis itself there are some ice rinks where you can do your laps on the ice while ice skating. It is sometimes even possible to do real speed skating or to play a round of ice hockey. In the metropolis there is also the opportunity to try out curling, a fringe sport that is becoming increasingly popular and for many people in Canada is a natural part of winter.